Nevada Historical Marker 53
Hamilton
US 50
Hamilton
39°21'12.9"N 115°23'40.4"W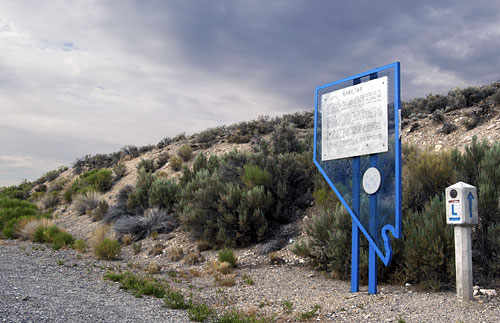 Note the Lincoln Highway marker next to the Hamilton marker.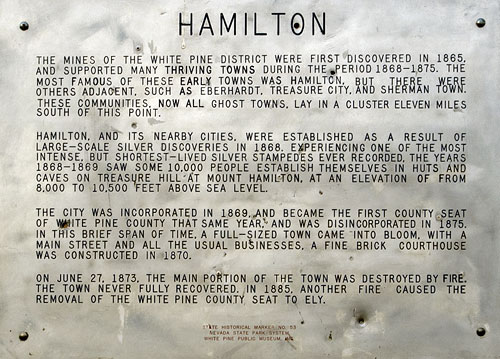 15 July 2008
(Click Photos to Zoom)
Hamilton
The mines of the White Pine District were first discovered in 1865, and supported many thriving towns during the period 1868-1875. The most famous of these early towns was Hamilton, but there were others adjacent, such as Eberhardt, Treasure City, and Sherman Town. These communities, now all ghost towns, lay in a cluster 11 miles south of this point.
Hamilton, and its nearby cities, was established as a result of large-scale silver discoveries in 1868. Experiencing one of the most intense, but shortest-lived silver stampedes ever recorded, the years 1868-1869 saw some 10,000 people establish themselves in huts and caves on Treasure Hill at Mount Hamilton, at an elevation of from 8,000 to 10,500 feet above sea level.
The city was incorporated in 1869, and became the first county seat of White Pine County that same year, and was disincorporated in 1875. In this brief span of time, a full-sized town came into bloom with a main street and all the usual businesses. A fine brick courthouse was constructed in 1870.
On June 27, 1873, the main portion of the town was destroyed by fire. The town never fully recovered. In 1885, another fire caused the removal of the White Pine county seat to Ely.
State Historical Marker No. 53
Nevada State Park System
White Pine Public Museum, Inc.

The Lincoln Highway
The Lincoln Highway, conceived in 1912 and formally dedicated October 31, 1913, was the first road to cross the United States. It ran from Times Square in New York City to Lincoln Park in San Francisco passing through thirteen states: New York, New Jersey, Pennsylvania, Ohio, Indiana, Illinois, Iowa, Nebraska, Colorado, Wyoming, Utah, Nevada, and California.
In 1925, the US Bureau of Public Roads eliminated named trails and highways, and Lincoln Highway became drab series of numbers: US 1, US 30, US 40, US 50.
One of the last actions of the Lincoln Highway Association before it closed, was to order the casting of 3,000 concrete markers, to dedicate the highway to the memory of Abraham Lincoln. A rectangular head on top of a hexagonal shaped post, the markers featured the Lincoln Highway logo, a bronze medallion and arrows to indicate the route of the memorial highway. The US Bureau of Public Roads allowed the placement of these markers along the length of the old highway.
According to the 1916 edition of the Lincoln Highway Association Official Road Guide, a trip from the Atlantic to the Pacific was "something of a sporting proposition" and might take twenty to thirty days. Motorists were advised to top off their gasoline at every opportunity and to wade through water before driving through to verify the depth. Recommended equipment included chains, a shovel, an axe, jacks, tire casings, inner tubes and sundry tools. Firearms were not necessary, but west of Omaha full camping equipment was recommended.
Source: Lincoln Highway Association and others.