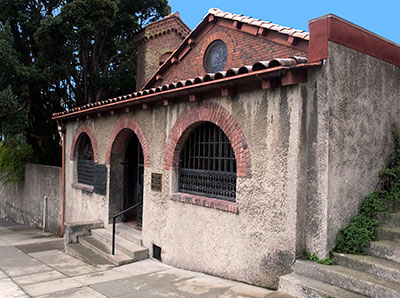 Swedenborgian Church of San Francisco
Designed by Joseph Worcester and Bernard Maybeck
Built 1895
Photographed 8 February 2009
The First Bay Area Tradition, centered in San Francisco and Berkeley, was a local adaptation of several related architectural styles: the Shingle Style of the eastern United States, the Craftsman style perfected by Greene & Greene in Pasadena, and the Arts and Crafts Movement of England.
First Bay Area Tradition buildings relate to their natural setting and are built of local materials, particularly redwood. The style emphasizes craftsmanship, volume, form and asymmetry.
Leading architects of the First Bay Area Tradition were Joseph Worcester, A. C. Schweinfurth, Bernard Maybeck, Willis Polk, A. Page Brown, Ernest Coxhead, John Galen Howard, Julia Morgan, and Louis Christian Mullgardt.
The First Bay Tradition was followed by the Second Bay Tradition with Henry Higby Gutterson and John Hudson Thomas as transitional architects.