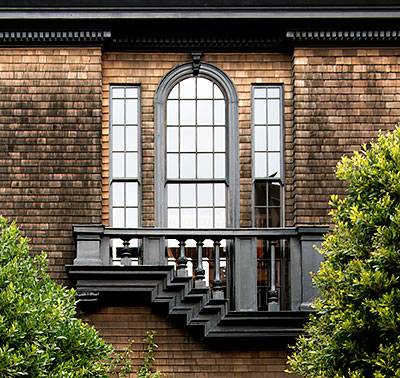 To the best of my knowledge, this elaboration of a Palladian window is unique in San Francisco if not the world.
National Register #11000143
Julian Waybur House
3232 Pacific Avenue
Built 1901
The Julian Waybur House is the work of master architect Ernest Coxhead. It is an outstanding example of the way Coxhead combined the popular American Shingle Style with experimental uses of European Revival Styles.
Coxhead brought his European training to California where he enjoyed an unrestricted environment to explore the boundaries of architectural design. He and his contemporaries designed buildings of natural simplicity and moved Bay Area architecture from the Victorian era into the Modern.
The sophisticated architectural joke of a balustrade mirroring an interior stair suggests unbridled confidence within the rules of Classical Architecture. The entry composition creates a beautiful dynamic tension, which neither alarms nor calms the viewer. The unique location within a wedge shaped block on the edge of the Presidio makes this one of Coxhead's's most identifiable works.

Source: Adapted from the NRHP nomination form.