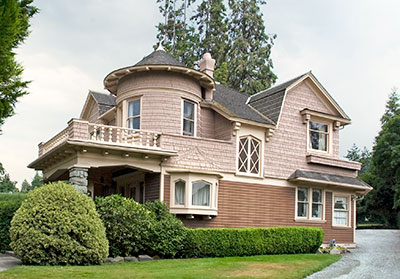 George Taverner House in Ashland
Buitl 1904
Photographed 13 August 2006
(Click Photo to Zoom)
Frank Clark designed residences and commercial buildings in Jackson and Josephine Counties from 1902 until his death in 1957.
Clark was born in New York State and worked as a draftsman at the prominent New York City firm McKim, Mead, and White while studying architecture and engineering at The Cooper Union. He moved west in 1896 and worked in Los Angeles and Arizona before moving to Ashland in 1902.
His timing was fortuitous. At the beginning of the 20th century, wealthy easterners were relocating to the Rogue River Valley to plant orchards near Medford, Central Point and Ashland. They commissioned homes and civic buildings appropriate to their station.
Clark also prospered between the end of World War I and the beginning of the Great Depression. He designed homes for prominent Medford businessmen in the popular Craftsman, Colonial Revival and Tudor Revival styles. During this period, he also designed commercial buildings, two schools and a theater.
Several hundred of Clark's buildings survive.