Ernest Coxhead House
in San Mateo
Built c.1893
Photographed 27 October 2004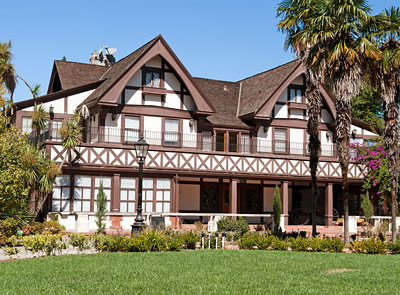 Seven Oaks
in San Mateo
Built 1901
Photographed 15 October 2012
(Click Photos to Zoom)
Tudor Revival mansions of the late 19th and early 20th century were inspired by English Renaissance buildings of the 16th and 17th centuries including the Elizabethan and Jacobean periods.
These grand, asymmetrical buildings had steeply pitched roof with one or more intersecting gable, decorative half-timbering and long rows of casement windows.
By the early 20th century, the style had been adapted to more modest houses and has remained popular ever since.
Tudor Revival buildings are characterized by:
Steeply pitched roofs with wooden or slate shingles
Intersecting gables
Stacked chimneys or chimney pots
Half-timbering
Casement windows with leaded glass and six-over-one double hung windows
Oriels and one or two story bay windows
Multiple materials including stucco, rubblework masonry, patterned stonework or brickwork, clapboards
Vertical plank doors
Asymmetrical floor plan