California Historical Landmark 140
Wells Fargo Express Company Building
Main Street and Solinsky Alley
Chinese Camp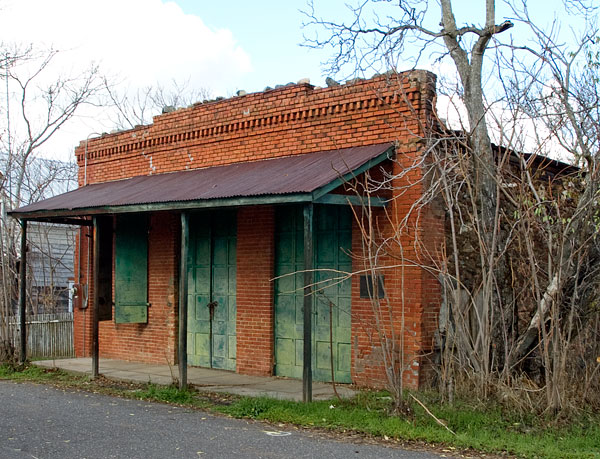 17 December 2006
(Click Photo to Zoom)
Wells Fargo Express Company Building
This building, erected in 1849 by the Walkerly brothers, was subsequently owned by the Morris brothers. It housed a general merchandise store in connection with the office of Adams Express Company, predecessor of Wells Fargo & Company. The original express agents were Sol Miller, C. W. H. Solinsky, and the Morris brothers.
Citation from California Office of Historic Preservation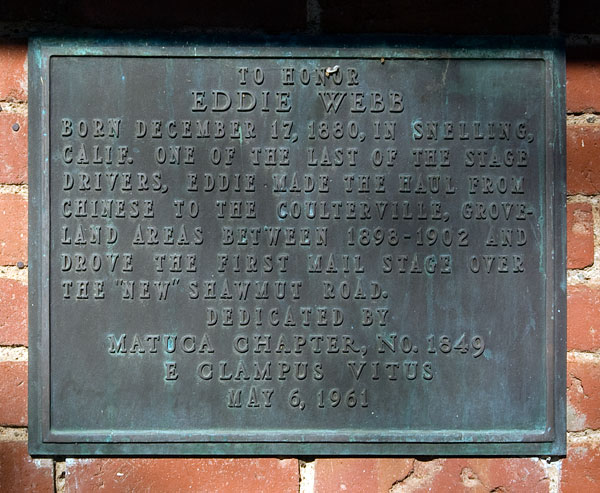 Plaque on Front of Building
1 January 2009
(Click Photo to Zoom)
To Honor Eddie Webb
Born December 17, 1880, in Snelling, Calif. One of the last of the stage drivers, Eddie made the haul from Chinese Camp to the Coulterville, Groveland areas between 1898-1902 and drove the first mail stage over the new Shawmut Road.
Dedicated by E Clampus Vitus
May 6, 1961

Gold Rush Stonemasons
Mining camps started as clusters of tents and other makeshift shelters. If the mine was productive, wooden buildings were erected and a town was born.
Conflagrations were a recurring curse. Often entire town were repeatedly destroyed by fire. Stonemasons, especially Italian immigrants from Liguria, began building "fire proof" banks and stores of stone or brick with iron doors and iron window shutters to protect the contents from fire.
Many of these stone buildings survive. Some of them, such as the Butte Store, are the sole reminders of a lost mining town.
Some of these buildings are: