California Historical Landmark 138
Mark Twain Cabin Historic Marker - East
CA-49 East of Jackass Hill Road
Tuttletown
Mark Twain Cabin
Replica with original chimney and fireplace. Here on Jackass Hill, young Mark Twain, while guest of the Gillis Brothers in 1864-65, gathered material for "Jumping Frog of Calaveras", which first brought him fame, and for "Roughing It".
Historical Landmark No. 138
Department of Public Works - Division of Highways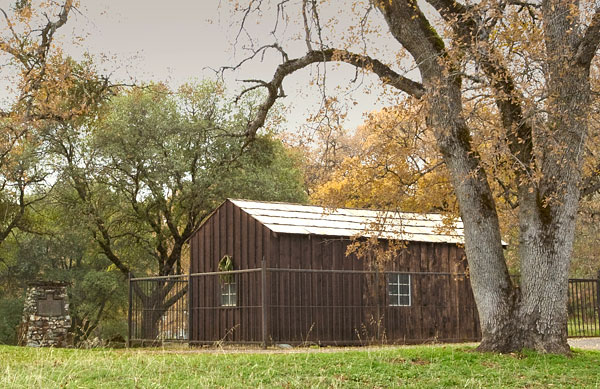 Reconstructed Cabin on Jackass Hill
8 January 2009
(Click Photo to Zoom)
Two California plaques on CA-49 commemorate the Mark Twain cabin with identical wording. This plaque stands east of the intersection of CA-49 and Jackass Hill Road, and the other plaque stands west of the intersection.
The reconstructed cabin on Jackass Hill is marked with two more plaques.