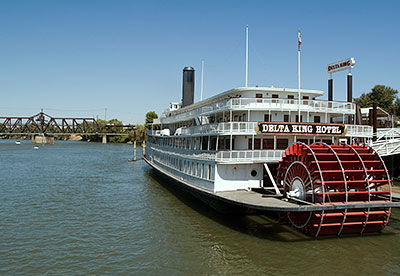 Delta King and
I Street Bridge
3 September 2006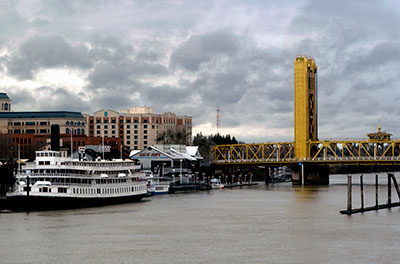 Delta King and
Tower Bridge
24 January 2008
(Click Photos to Zoom)
National Register #78000797
Delta King Riverboat
Sacramento River Near Intersection of Front and K Streets
Sacramento
Christened 20 May 1927
For a decade beginning in 1927, the sternwheel riverboat Delta King and her identical twin, the Delta Queen, made grand, ten-hour journeys between Sacramento and San Francisco complete with fine dining and jazz and gambling.
Prohibition whiskey and gin and champagne.
$3.50 would get you a stateroom. For eight bits you could sleep on the cargo deck if you brought your own blanket.
Those were the days, my friend.

The bottom photograph was taken from the eastbound California Zephyr as it crossed the I Street Bridge just before stopping at the historic Southern Pacific Depot.

Historic structures in Old Sacramento:
Adams and Company Building
Big Four Headquarters
Booth Home
Brannan House
Delta King
Eagle Theater
Ebner's Hotel
Hastings Building
I Street Bridge
Lady Adams Building
Mills Bank Building
Old Sacramento
Orleans Hotel Site
Overton Building
Pioneer Mutual Volunteer Firehouse
Pioneer Telegraph Station
Pony Express Terminal
Sacramento Bee Building
Sacramento Union
Stage Coach and Railroad
Tower Bridge
Western Hotel
What Cheer House