Historic Sites and Points of Interest in Josephine County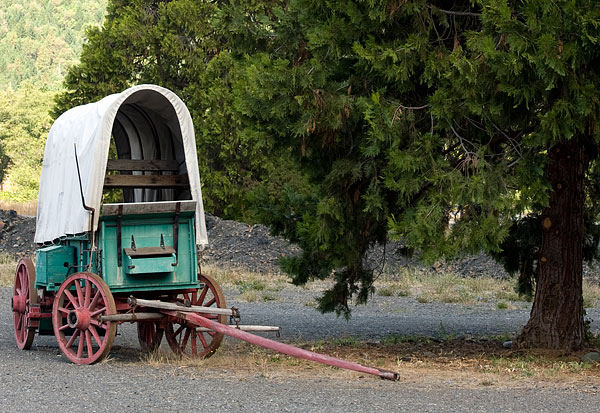 Applegate Trail Interpretive Center in Sunny Valley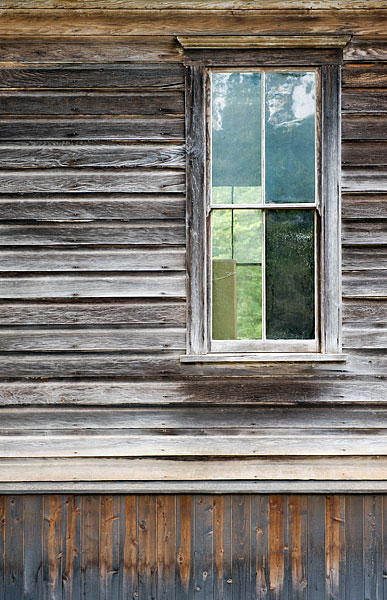 In the Ghost Town of
Golden
Both Photos 20 September 2010
(Click Photos to Zoom)
Josephine County is located in southwest Oregon on the California border. Most of the historic sites are in Grants Pass and the Illinois Valley. The latter sites, associated with the Gold Rush of the 1850's, are obscure and difficult to find.
The 1852 discovery of placer gold at Sailor Diggins brought the first settlers to the Illinois Valley which was then in Jackson County, Oregon.
On January 22, 1856, the Oregon Territorial Legislature carved Josephine County out of the western portion of Jackson County. According to tradition the Legislature named the county for Virginia Josephine Rollins, daughter of Lloyd Rollins who discovered gold in Josephine Creek in 1851. Miss Rollins, born in Illinois, lived in Oregon only a short time before moving on to Colusa, Sonora and finally Sonoma. She maintained that "as far as I know, I was the first white woman in that part of Oregon."
Sailor Diggins, renamed Waldo, was the original county seat but only for a year. The county seat was relocated twice based upon transportation routes. In 1857, Kerbyville became the county seat because of its situation on the main route from California to the gold fields. After the railroad was built through Grants Pass, it became the county seat in 1886.
Waldo no longer exists. Kerbyville was briefly renamed Napoleon, then it became Kerby, then it became a ghost town suburb of Cave Junction. Grants Pass remains the county seat.
The Oregon Caves Chateau is a National Historic Landmark.
You can learn more about Josephine County at the Josephine County Historical Society, 512 SW Fifth Street, Grants Pass.
| Name | Address | City | Year | Authority | ID | Sort Address | Sort Name |
| --- | --- | --- | --- | --- | --- | --- | --- |
| Ahlf House | 762 Northwest 6th Street | Grants Pass | | National | 1983002154 | Street 06 NW 0762 | Ahlf House |
| Calhoun House | 612 Northwest 5th Street | Grants Pass | | National | 1981000495 | Street 05 NW 0612 | Calhoun House |
| Cedar Guard Station No. 1019 | Caves Highway | Siskiyou National Forest | | National | 1986000837 | Caves Highway | Cedar Guard Station No. 1019 |
| Clark-McConnell House | 961 Southeast 8th Street | Grants Pass | | National | 1998000628 | Street 08 SE 0961 | Clark-McConnell House |
| Clark-Norton House | 127 Northwest D Street | Grants Pass | | National | 1986000290 | Street D NW 0127 | Clark-Norton House |
| Clemens House | 612 Northwest 3rd Street | Grants Pass | | National | 1982003728 | Street 03 NW 0612 | Clemens House |
| Cornell House | 121 Northeast B Street | Grants Pass | | National | 2002001279 | Street B NE 0121 | Cornell House |
| Croxton House | 1002 Northwest Washington Boulevard | Grants Pass | | National | 1979002076 | Washingto NW 1002 | Croxton House |
| Dimmick-Judson House | 906 Northeast 8th Street | Grants Pass | | National | 1998000629 | Street 08 NE 0906 | Dimmick-Judson House |
| Fetzner House | 314 Northeast Fetzner Street | Grants Pass | | National | 1990001595 | Fetaner NE 0314 | Fetzner House |
| Flanagan House | 720 Northwest 6th Street | Grants Pass | | National | 1983002155 | Street 06 NW 0720 | Flanagan House |
| Golden Historic District | Coyote Creek Road | Golden | | National | 2002000825 | Coyote | Golden Historic District |
| Grants Pass City Hall and Fire Station | 4th and H Streets | Grants Pass | | National | 1984003017 | Street 04 | Grants Pass City Hall and Fire Station |
| Grants Pass G Street Historic District | Bounded by Southwest G and H Streets and 4th and 6th Streets | Grants Pass | | National | 1993001030 | Street G SW | Grants Pass G Street Historic District |
| Grants Pass Supervisor's Warehouse | 200 Northeast Greenfield Road | Grants Pass | | National | 1991000163 | Greenfield NE 0200 | Grants Pass Supervisor's Warehouse |
| Grave Creek Bridge | Sunny Valley Loop at Placer Road | Sunny Valley | 1920 | National | 1979002077 | Sunny Valley | Grave Creek Bridge |
| Hotel Josephine Annex | 118 Northwest E Street | Grants Pass | | National | 1997000133 | Street E NW 0118 | Hotel Josephine Annex |
| Hugo Community Baptist Church | 6501 Hugo Road | Hugo | | National | 1990001587 | Hugo 6501 | Hugo Community Baptist Church |
| Kienlen-Harbeck Building | 147 Southwest G Street | Grants Pass | | National | 1982003729 | Street G SW 0147 | Kienlen-Harbeck Building |
| Lundburg House | 404 Northwest A Street | Grants Pass | | National | 1987000365 | Street A NW 0404 | Lundburg House |
| McLean House | 724 Northwest 4th Street | Grants Pass | | National | 1984003020 | Street 04 NW 0724 | McLean House |
| Nauke House | 24195 Redwood Highway | Kerby | | National | 1999000946 | Redwood 24195 | Nauke House |
| Newell House | 591 Southwest G Street | Grants Pass | | National | 1979002078 | Street G SW 0591 | Newell House |
| Newman United Methodist Church | 128 Northeast B Street | Grants Pass | | National | 1977001103 | Street B NE 0128 | Newman United Methodist Church |
| Oregon Caves Chateau | 20000 Caves Highway | Oregon Caves National Monument | | National | 1987001346 | Caves Highway | Oregon Caves Chateau |
| Oregon Caves Historic District | Caves Highway | Oregon Caves National Monument | | National | 1992000058 | Caves Highway | Oregon Caves Historic District |
| Rand Ranger Station | Galice Road | Galice | | National | 1999000703 | Galice | Rand Ranger Station |
| Redwoods Hotel | 310 Northwest 6th Street | Grants Pass | | National | 1979002079 | Street 06 NW 0310 | Redwoods Hotel |
| Rogue River Valley Grange No. 469 | 2064 Upper River Road | Grants Pass | | National | 1992000130 | Upper River 2064 | Rogue River Valley Grange No. 469 |
| Rogue Theatre | 143 Southeast H Street | Grants Pass | | National | 2005000640 | Street H SE 0143 | Rogue Theatre |
| Schmidt House | 508 Southwest 5th Street | Grants Pass | | National | 2003001478 | Street 05 SW 0508 | Schmidt House |
| Smith House | 139 Southwest I Street | Grants Pass | | National | 1983002156 | Street I SW 0139 | Smith House |
| Speed's Place on the Rogue | 11407 Merlin-Galice Road | Galice | | National | 1991000808 | Merlin-Galice 11407 | Speed's Place on the Rogue |
| Store Gulch Guard Station No. 1020 | Illinois River Road | Siskiyou National Forest | | National | 1986000838 | Illinois River Road | Store Gulch Guard Station No. 1020 |
| Voorhies House | 421 Northwest B Street | Grants Pass | | National | 1990000282 | Street B NW 0421 | Voorhies House |
| Whisky Creek Cabin | 10 Miles West of Wolf Creek at Rogue River | Wolf Creek | | National | 1975001584 | Rogue River | Whisky Creek Cabin |
| Wolf Creek Tavern | 100 Front Street | Wolf Creek | 1870 | National | 1972001081 | Front 0100 | Wolf Creek Tavern |