Historic Sites and Points of Interest in Alpine County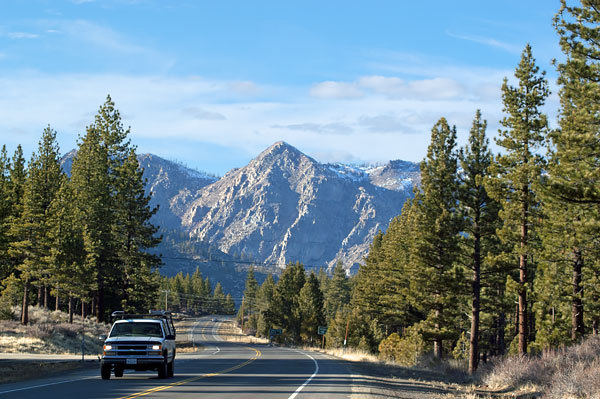 State Route 89 Near Woodfords
17 February 2007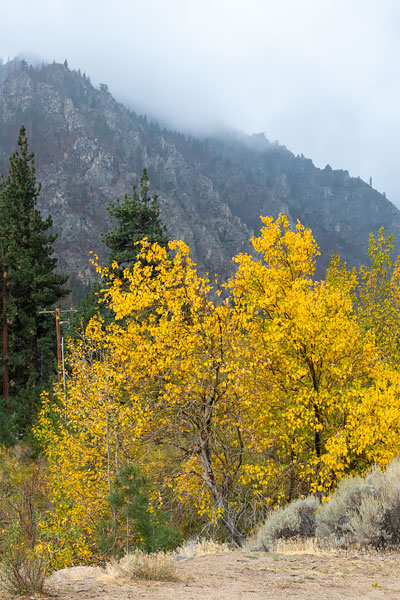 Aspen Grove on West Fork Carson River
22 October 2022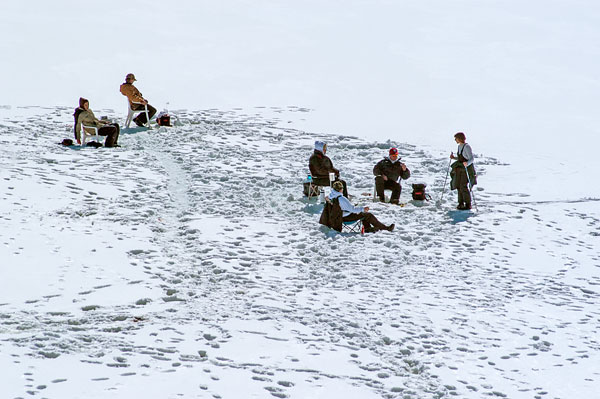 Ice Fishing on Caples Lake
17 February 2007
Alpine County is located in the Sierra Nevada between Lake Tahoe and Yosemite National Park.
It is the smallest county, by population, in California. As of 2010, it had a population of 1,175, all rural. There are no incorporated cities in the county. The county seat is Markleeville.
Two of California's most historic and scenic highways traverse the Sierra Nevada in Alpine County:
State Route 4 is closed in the winter above Bear Valley. State Route 88 is an all-weather road.
| Name | Address | City | Year | Authority | ID | Sort Address | Sort Name |
| --- | --- | --- | --- | --- | --- | --- | --- |
| Marklee's Cabin Site | SR 89 at Water Street | Markleeville | 1862 | California | 240 | SR 89-40 | Marklee's Cabin Site |
| Kit Carson Marker | State Route 88 | Carson Pass | 1844 | California | 315 | SR 88-32 | Kit Carson Marker |
| Ebbetts Pass Route | State Route 4 PM 18.5 | Toiyabe National Forest | 1850 | California | 318 | SR 04-35 | Ebbetts Pass Route |
| Pioneer Odd Fellows | Red Vista Road | Carson Pass | 1849 | California | 378 | Red Vista | Pioneer Odd Fellows |
| Old Emigrant Road | State Route 88 | Caples Lake | 1848 | California | 661 | SR 88-20 | Old Emigrant Road |
| Pony Express Remount Station | Old Pony Express Way | Woodfords Station | 1860 | California | 805 | Old Pony Express | Pony Express Remount Station |
| Alpine County Courthouse | 14777 State Route 89 | Markleeville | 1928 | National | 2004001074 | SR 89-30 | Alpine County Courthouse |
| Old Webster School | 135 School Street | Markleeville | 1928 | National | 2005000071 | School | Old Webster School |
| Alpine County Historical Complex | 135 School Street | Markleeville | 1882 | POI | | School 0135 | Alpine County Historical Complex |
| Alpine Hotel | 14830 State Route 89 | Markleeville | 1862 | POI | | SR 89-10 | Alpine Hotel |
| Bedrock Mortars | State Route 4 | Lake Alpine | | POI | | SR 04-20 | Bedrock Mortars |
| Carson Trail Marker 36 | Fredricksburg Road | Mesa Vista | | POI | | Fredricksburg | Carson Trail Marker 36 |
| Carson Trail Marker 37 | SR 88 | Alpine Village | 1850 | POI | | SR 88-90 | Carson Trail Marker 37 |
| Carson Trail Marker 38 | Crystal Springs Road | Alpine Village | 1852 | POI | | Crystal Springs | Carson Trail Marker 38 |
| Carson Trail Marker 39 | Carson Pass Highway | Sorensens | 1849 | POI | | Carson Pass | Carson Trail Marker 39 |
| Carson Trail Marker 40 | Burnside Road | Hope Valley | 1853 | POI | | Burnside | Carson Trail Marker 40 |
| Carson Trail Marker 41 | Blue Lakes Road | Hope Valley Snow Park | | POI | | Blue Lakes | Carson Trail Marker 41 |
| Carson Trail Marker 42 | Red Vista Road | Carson Pass | | POI | | Red Vista | Carson Trail Marker 42 |
| Carson Trail Marker 43 | Red Vista Road | Carson Pass | | POI | | Red Vista | Carson Trail Marker 43 |
| Carson Trail Marker 44 | Woods Lake Road | Caples Lake | | POI | | Woods Lake | Carson Trail Marker 44 |
| Carson Trail Marker 45 | SR 88 | Caples Lake | | POI | | SR 88-10 | Carson Trail Marker 45 |
| Carson Trail Marker 46 | Trail on South Side of Caples Lake | Kirkwood | | POI | | Caples | Carson Trail Marker 46 |
| Carson Trail Marker 47 | Rough Dirt Road | Kirkwood | | POI | | Rough Dirt Road | Carson Trail Marker 47 |
| Carson Trail Marker 48 | Rough Dirt Road | Kirkwood | | POI | | Rough Dirt Road | Carson Trail Marker 48 |
| Carson Trail Marker 49 | Rough Dirt Road | Kirkwood | | POI | | Rough Dirt Road | Carson Trail Marker 49 |
| Harry Schimke | Station House Road | Bear Valley | 1930 | POI | | Station House | Harry Schimke |
| Hermit Valley | State Route 4 | Stanislaus National Forest | 1856 | POI | | SR 04-30 | Hermit Valley |
| Luther Pass Trail Marker 1 | Burnside Road | Hope Valley | 1856 | POI | | Burnside | Luther Pass Trail Marker 1 |
| Markleeville General Store | SR 89 Between Montgomery and Water Streets | Markleeville | 1885 | POI | | SR 89-20 | Markleeville General Store |
| Old Emigrant Road | Station House Road | Bear Valley | 1821 | POI | | Station House | Old Emigrant Road |
| Old Log Jail | 135 School Street | Markleeville | 1875 | POI | | School 0135 | Old Log Jail |
| Over the Sierra Nevada | Blue Lakes Road | Hope Valley | 1855 | POI | | Blue Lakes | Over the Sierra Nevada |
| Reynold's House | State Route 4 | Lake Alpine | 1878 | POI | | SR 04-10 | Reynold's House |
| Reynolds Peak | State Route 4 | Toiyabe National Forest | | POI | | SR 04-10 | Reynolds Peak |
| Silver Mountain | State Route 4 | Toiyabe National Forest | 1858 | POI | | SR 04-40 | Silver Mountain |
| Snowshoe Thom(p)son | State Route 88 | Carson Pass | 1876 | POI | | SR 88-30 | Snowshoe Thom(p)son |
| Snowshoe Thompson | Diamond Valley Road | Rural | 1827 | POI | | Diamond Valley | Snowshoe Thompson |
| Snowshoe Thompson Home (NSGW) | Diamond Valley Road | Rural | 1827 | POI | | Diamond Valley | Snowshoe Thompson Home (NSGW) |
| Snowshoe Thomson Home (Clampers) | Diamond Valley Road | Rural | 1827 | POI | | Diamond Valley | Snowshoe Thomson Home (Clampers) |
| Webster School | Montgomery and Laramie | Markleeville | 1929 | POI | | Montgomery | Webster School |
| Woodfords Station | Old Pony Express Way | Woodfords Station | 1849 | POI | | Old Pony Express | Woodfords Station |