California Historical Landmark 315
Kit Carson Marker
State Route 88
Carson Pass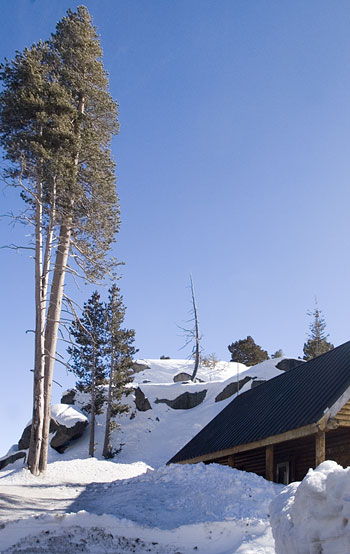 Carson Pass in the Sierra Nevada
We suspect that the Kit Carson Marker
is buried in the snow near here.
We shall return after the thaw.
17 February 2007
(Click Photo to Zoom)
Kit Carson Marker
On this spot, the summit of the Kit Carson Pass, stood the Kit Carson Tree on which the famous scout Kit Carson inscribed his name in 1844 when he guided the then Captain John C. Frémont, head of a government exploring expedition, over the Sierra Nevada. The original inscription was cut from the tree in 1888 and is now in Sutter's Fort, Sacramento.
Citation from California Office of Historic Preservation