Historic Sites and Points of Interest in Trinity County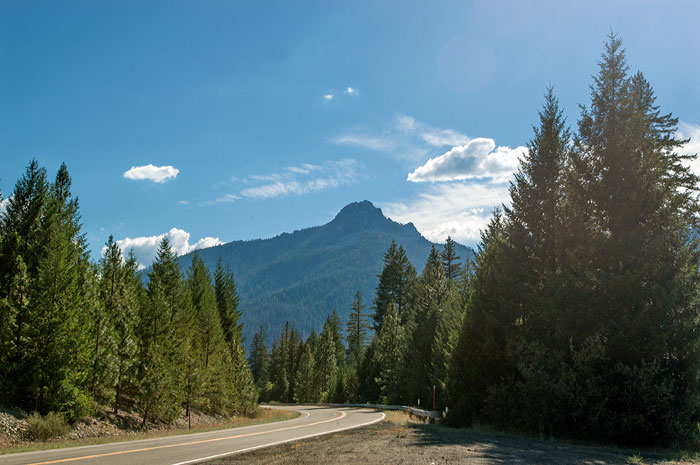 State Route 3 in the Trinity Alps
14 July 2007
Trinity County is a large, rugged and mountainous, heavily forested county in northwestern California. The 2010 census counted 13,786 souls.
Trinity County has neither traffic lights nor freeways nor parking meters nor incorporated cities. Until 1999, Trinty County had neither chain store nor restaurant.
Weaverville, population about 3,500 souls, is the largest town in Trinity County and the county seat. Some of the oldest buildings in California are in Weaverville. The courthouse, built in 1856, is the second oldest in California, and the Weaverville Drug Store has been filling prescriptions since 1852. The Joss House is an historic Taoist temple built in 1873.
Adapted from Wikipedia.
| Name | Address | City | Year | Authority | ID | Sort Address | Sort Name |
| --- | --- | --- | --- | --- | --- | --- | --- |
| Anvil Firing | Lowden Park Recreational Hall parking lot | Weaverville | | POI | | Lowden | Anvil Firing |
| Bagdad | SR 299 | Helena | 1850 | POI | | 299-10 | Bagdad |
| Bagdad – North Fork – Helena | East Fork Road | Helena | | POI | | East Fork Road | Bagdad – North Fork – Helena |
| Bowerman Barn | Guy Covington Drive | Trinity National Forest | 1878 | National | 1981000181 | 003-05 | Bowerman Barn |
| Bucket Line Dredges | SR 3 and East Side Road | Trinity National Forest | | POI | | 003-60 | Bucket Line Dredges |
| Cañon City | Canyon Creek Road | Trinity National Forest | | POI | | Canyon Creek | Cañon City |
| Carrville | 581 Carrville Loop Road | Trinity Center | | POI | | Carville | Carrville |
| Dedrick | Canyon Creek Road | Trinity National Forest | | POI | | Canyon Creek | Dedrick |
| Hamilton Store | Mill Street Bridge | Weaverville | | POI | | Mill | Hamilton Store |
| Helena Historic District | SR 299 | Helena | 1852 | National | 1984001219 | 299-20 | Helena Historic District |
| Japanese Bomb Balloon | SR 3 at Morgan Hill Road | Hayfork | | POI | | 003-90 | Japanese Bomb Balloon |
| Jumper Sawmill | SR 3 at Little Browns Creek Road | Trinity National Forest | 1880 | POI | | 003-10 | Jumper Sawmill |
| Junction City Centennial | SR 299 at Canyon Creek Road | Junction City | | POI | | 299-20 | Junction City Centennial |
| Kellogg Cemetery | SR 3 | Hayfork | | POI | | 003-87 | Kellogg Cemetery |
| La Grange Mine | SR 299 | Weaverville | 1862 | California | 778 | 299-30 | La Grange Mine |
| Lee Family Ranch House | 115 Lorenz Road | Weaverville | | POI | | Lorenz | Lee Family Ranch House |
| Lewiston Historic District | Deadwood, Turnpike, and Schoolhouse Roads | Lewiston | 1851 | National | 1988000550 | Deadwood | Lewiston Historic District |
| Lowden's Wagon Road | SR 3 at Little Browns Creek Road | Rural | | POI | | 003-20 | Lowden's Wagon Road |
| Old Courthouse Site | Court Street at Center Street | Weaverville | | POI | | Court | Old Courthouse Site |
| Paymaster Mine Stampmill | 780 Main Street | Weaverville | | POI | | Min 0780 | Paymaster Mine Stampmill |
| Race Track – Airport – Golf Course | Golf Course Drive and Fairway Drive | Weaverville | | POI | | Golf | Race Track – Airport – Golf Course |
| Reading's Bar | Steiner Flat Road | Douglas City BLM Campground | | POI | | Steiner Flat | Reading's Bar |
| Salt Creek School | SR 3 Near Dobbins Gulch Road | Hayfork | | POI | | 003-95 | Salt Creek School |
| Steel Bridge | Steel Bridge Road | Rural | | POI | | Steel Bridge | Steel Bridge |
| Trinity Center | SR 3 at Airport Road | Trinity Center | | POI | | 003-70 | Trinity Center |
| Weaverville Historic District | Main Street | Weaverville | 1850 | National | 1971000209 | Main 0000 | Weaverville Historic District |
| Weaverville Joss House | SR 299 and Oregon Street | Weaverville | 1874 | California | 709 | 299-40 | Weaverville Joss House |