California Historical Landmark 87
Site of First United States Mint in California
608-610 Commercial Street Near Montgomery
Built 1854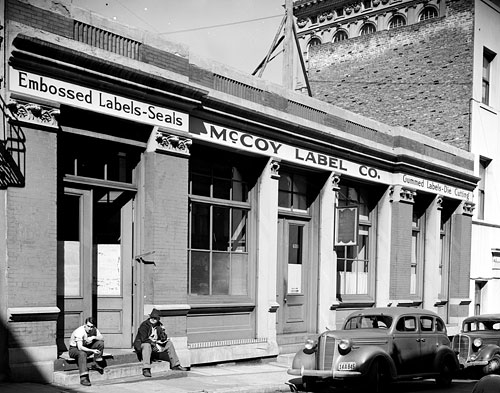 The Mint in 1940
Photograph from the Historic American Buildings Survey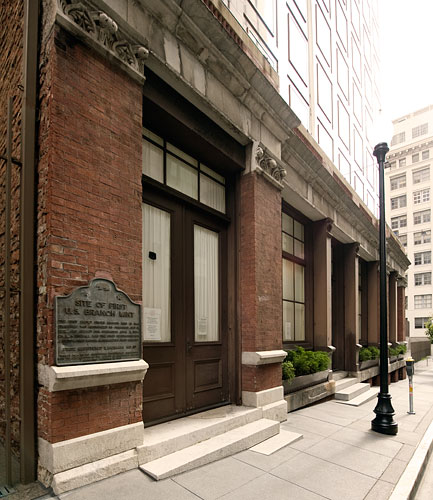 The Mint on 26 June 2010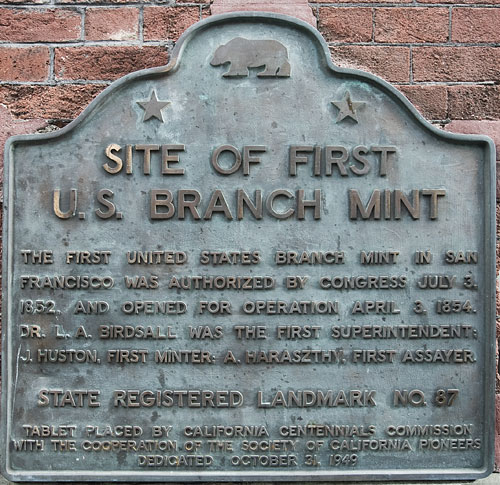 26 June 2010
(Click Photos to Zoom)
Site of First U.S. Branch Mint
The first United States branch mint in San Francisco was authorized by Congress July 3, 1852 and opened for operation April 3, 1854. Dr. L. A. Birdsall was the first superintendent; J. Huston, first minter; A. Haraszthy, first assayer.
State Registered Landmark No. 87
Tablet placed by California Centennials Commission with the cooperation of The Society of California Pioneers
Dedicated October 3, 1949

Four years after California became a state in 1850, the United States Treasury erected the first branch mint in California to accommodate the gold flowing in from the Sierra. Although today's waterfront is more than a half mile east of this location, the mint originally stood only a few feet from the San Francisco Bay and the
Long Wharf
. The prospect from the intersection of Commercial and Montgomery was a forest of masts rather than today's bulwark of skyscrapers.
In 1875, the mint was moved to Fifth and Mission Streets (California Landmark 875) and this structure was rebuilt as a four-story, brick Subtreasury designed by William Appleton Potter. The 1906 Earthquake and Fire gutted the building, which was once again rebuilt, this time as a one-story, brick building.
The surviving structure was incorporated into the highrise Bank of Canton as the Pacific Heritage Museum with exhibits devoted to the history of the building and to the arts of Pacific Rim cultures.
To learn more about the colorful life of Count Agoston Haraszthy, the mint's first assayer and Father of Modern Viticulture in California, please see California Landmark 392, Buena Vista Winery and Vineyards.
The structure is also designated as San Francisco Landmark 34.

Points of historical interest associated with Portsmouth Plaza and Gold Rush San Francisco: