California Historical Landmark 119
Portsmouth Plaza
Bounded by Washington, Kearny, Clay and Walter U. Lum Place
Claimed for the United States of America in 1846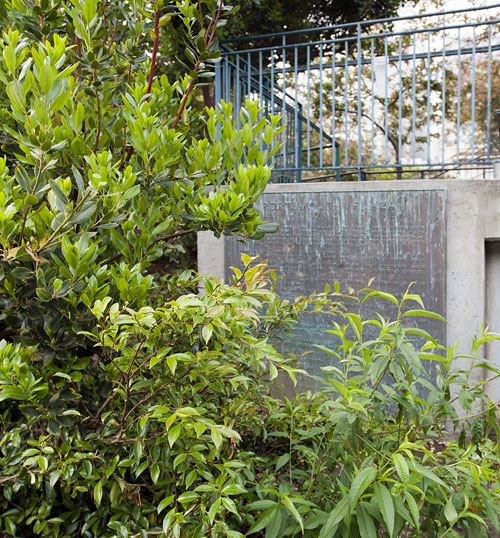 The commmemorative plaque is half hidden by a shrub in an obscure
and uninviting level of this tiered park.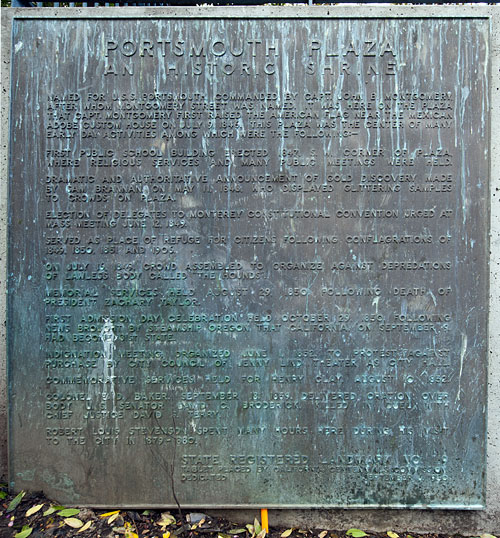 12 May 2012
(Click Photos to Zoom)
Portsmouth Plaza
An Historic Shrine
Named for U.S.S. Portsmouth commanded by John B. Montgomery after whom Montgomery Street was named. It was here on the plaza that Capt. Montgomery first raised the American flag near the Mexican adobe custom house on July 9, 1846. This plaza was the center of many early day activities among which were the following:
First public school building erected 1847, S. W. corner of plaza, where religious services and many public meeting were held.
Dramatic and authoritative announcement of gold discovery made by Sam Brannan on May 11, 1848, who displayed glittering samples to crowds on plaza.
Election of delegates to Monterey Constitutional Convention urged at mass meeting June 12, 1849.
Served as place of refuge for citizens following conflagrations of 1849, 1850, 1851 and 1906.
On July 16, 1849, crowd assembled to organize against depredations of lawless body called "The Hounds."
Memorial services held August 29, 1850, following death of President Zachary Taylor.
First Admission Day celebration held October 29, 1850, following news brought by steamship Oregon that California, on September 9, had become 31st state.
Indignation meeting organized June 1, 1852, to protest against purchase by City Council of Jenny Lind Theater as City Hall.
Commemorative service held for Henry Clay, August 10, 1852.
Colonel E. D. Baker, September 18, 1859, delivered oration over body U. S. Senator David C. Broderick killed in duel with Chief Justice David S. Terry.
Robert Louis Stevenson spent many hours here during his visit to The City in 1879-1880.
State Registered Landmark No. 119
Tablet placed by California Centennial Commission
Dedicated September 1950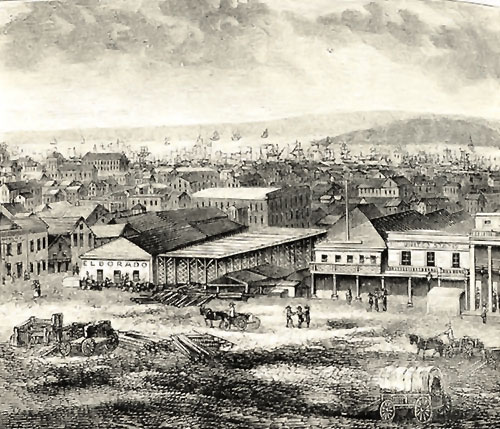 East Side of Portsmouth Plaza in the Spring of 1850
(Click Photo to Zoom)
From Page 358 of The Annals of San Francisco by Frank Soule, John Gihon, and James Nesbit, Published 1855 by D. Appleton & Company, New York.
In 1850, Release 1.0 of Kearny Street, the east boundary of Portsmouth Plaza, consists of modest one story and two story buildings, more outpost than city.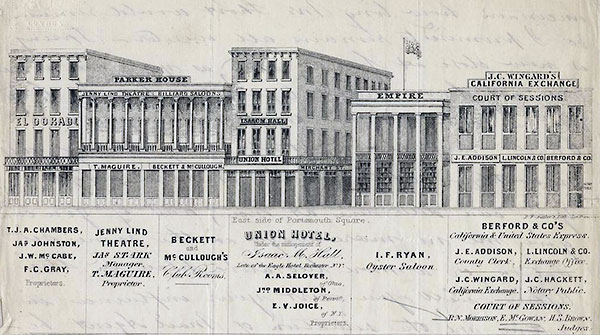 East Side of Portsmouth Plaza Circa 1852 by B. F. Butler, Lithographer
(Click Photo to Zoom)
Release 2.0 of Kearny Street just two years later. The El Dorado Bar has grown from one to four stories and the Jenny Lind Theater has been built. The Gold Rush has turned San Francisco into a city.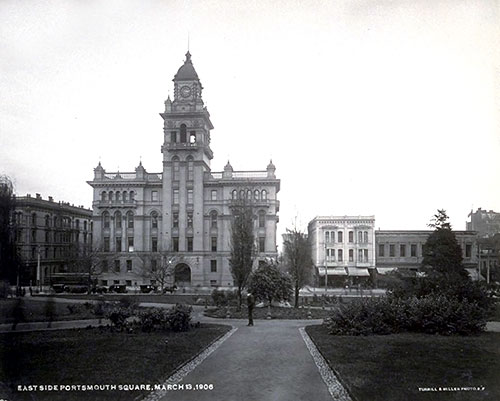 East Side of Portsmouth Plaza on 13 March 1906
Photograph by Turrill & Miller
(Click Photo to Zoom)
The Jenny Lind Theater was demolished and replaced by the San Francisco Hall of Justice. Five weeks after this photograph was taken, the 1906 Earthquake and Fire destroyed the Hall of Justice.
A Hilton Hotel now occupies the site.

Points of historical interest associated with Portsmouth Plaza and Gold Rush San Francisco: