California Historical Landmark 86
California Theatre Site
444 Bush Street
Financial District
Built 1869
Demolished and Rebuilt 1889
Destroyed By Earthquake and Fire 1906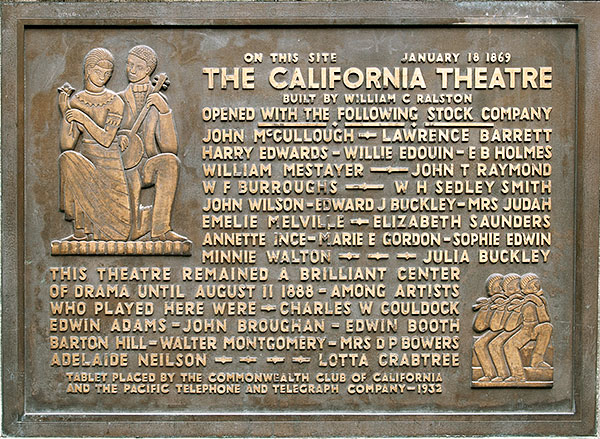 20 February 2012
(Click Photo to Zoom)

On This Site January 18 1869
The California Theatre
Built By William C Ralston
Opened With the Following Stock Company
John McCullough - Lawrence Barrett
Harry Edwards - Willie Edouin - E B Holmes
William Mestayer - John T Raymond
W F Burroughs - W H Sedley Smith
John Wilson - Edward J Buckley - Mrs Judah
Emelie Melville - Elizabeth Saunders
Annette Ince - Marie E Gordon - Sophie Edwin
Minnie Walton - Julia Buckley
This theatre remained a brilliant center of drama until August 11 1888
Among the artists who played here were
Charles W Couldock
Edwin Adams - John Broughan - Edwin Booth
Barton Hill - Walter Montgomery Mrs D P Bowers
Adelaide Neilson - Lotta Crabtree
Tablet placed by the Commonwealth Club of California and the Pacific Telephone and Telegraph Company
1932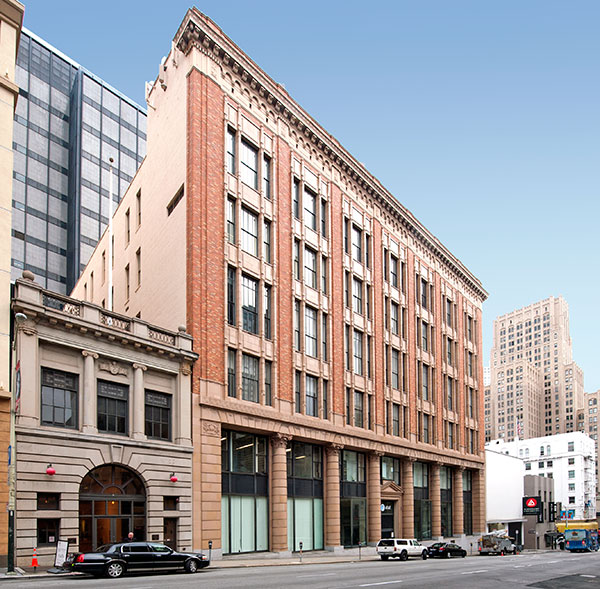 Engine Company #2
, Pacific Telephone Building,
Russ Building
The plaque is mounted on the Pacific Telephone Building
20 February 2012
(Click Photo to Zoom)
The steel-frame Pacific Telephone Building was designed by
Bliss & Faville
and built in 1924. The
Renaissance/Baroque
façade is surfaced with brick and terra cotta. [
Splendid Survivors
by Michael R. Corbett, 1979]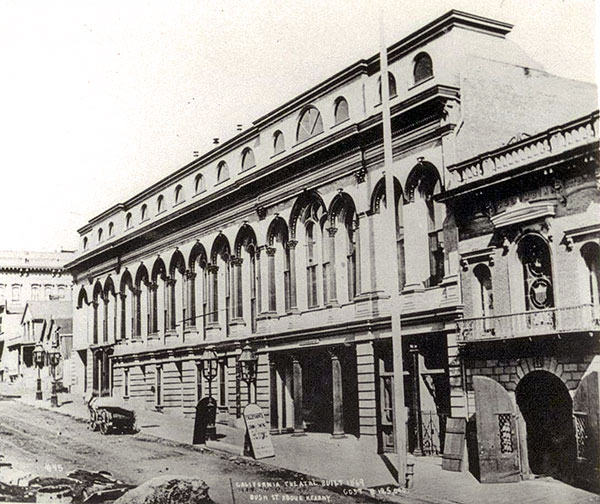 The First California Theatre c1870
(Click Photo to Zoom)

Inspired by the acting of John McCullough and Lawrence Barrett, William Ralston built the California Theatre to showcase their talent.
Ralston thought that the theatre would be a lucrative investment. He was right. The theatre was successful beyond his expectations.
The theatre opened on January 18, 1869 with a performance of Bulwer-Lytton's play Money.
It was the leading theatre in the city until its demolition in 1888. There were elaborate murals of San Francisco and a panoramic view of San Francisco Bay on the drop curtain. The theatre claimed to be the first on the West Coast to use calcium light (limelight) with parabolic reflectors aimed from the house, to light up the stage.
A new California Theatre, opened on the site on May 18, 1889, but was destroyed in the 1906 Earthquake and Fire. The theatre never regained its former status after Ralston's death in 1875 and McCullough's departure in 1877, but it was first theatre on the West Coast to be lighted exclusively with electricity.
Photograph and commentary from Wikipedia