California Historical Landmark 696
Site of Western Headquarters of Russell, Majors, and Waddell
(Pony Express)
601 Montgomery Street at Clay Street
3 April 1860 - 26 October 1861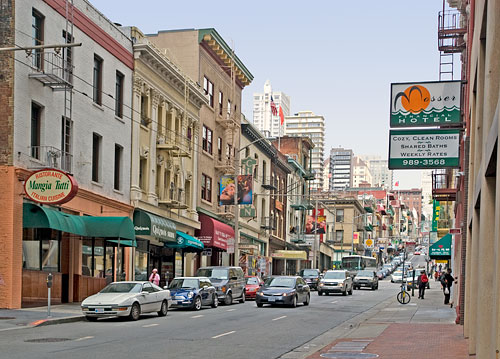 Looking Up Clay Street from Montgomery Street
15 June 2008
The Pony Express plaques are mounted on the Clay Street side of a highrise at 601 Montgomery Street between the stone columns shown in the foreground of the photograph next to the Mosser Financial Hotel.
In 1860, this spot was near the shoreline of the San Francisco Bay. Today, it is where Chinatown meets the Financial District.
As you stand reading the plaques, Chinatown and Portsmouth Plaza are to your left up Clay Street, and the Transamerica Building is to your right across Montgomery Street.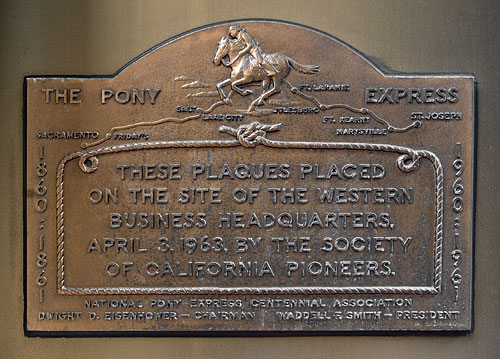 The Pony Express
These plaques placed on the site of the western business headquarters, April 3, 1963, by the Society of California Pioneers.
National Pony Express Centennial Association
Dwight D. Eisenhower - Chairman
Waddell F. Smith - President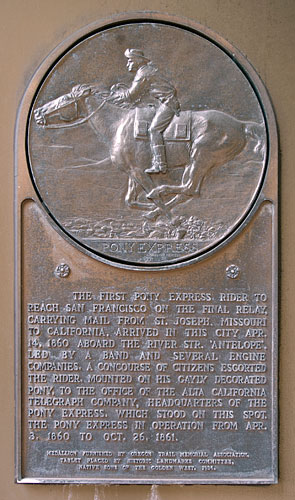 Pony Express
The first pony express rider to reach San Francisco on the final relay, carrying mail from St. Joseph, Missouri to California, arrived in this city Apr. 14, 1860 aboard the river str. 'Antelope.' Led by a band and several engine companies, a concourse of citizens escorted the rider, mounted on his gayly decorated pony to the office of the Alta California Telegraph Company, headquarters of the Pony Express, which stood on this spot.
The Pony Express in operation from Apr. 3, 1860 to Oct. 26, 1861.
Medallion furnished by Oregon Trail Memorial Association.
Tablet placed by Historic Landmarks Committee, Native Sons of the Golden West, 1936.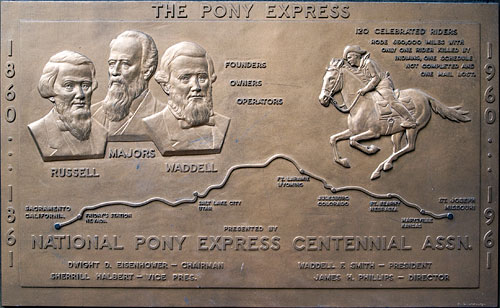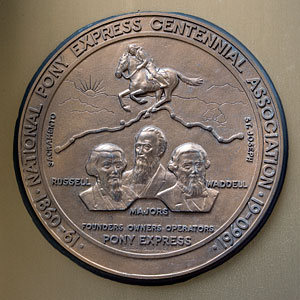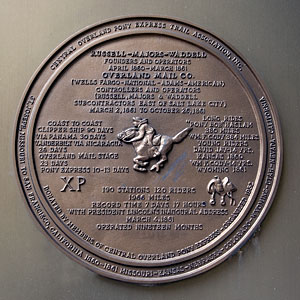 All Photos 15 June 2008
(Click Photos to Zoom)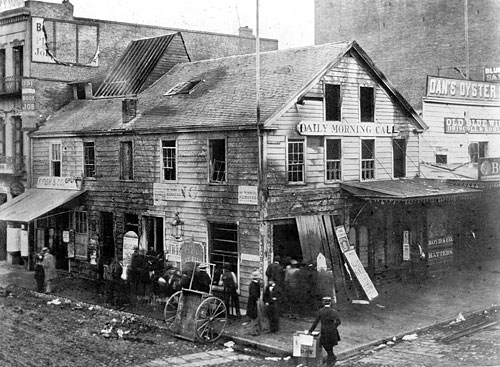 Montgomery and Clay Streets in 1859
Photograph from Historic American Buildings Survey
(Click Photo to Zoom)

Points of historical interest associated with Portsmouth Plaza and Gold Rush San Francisco: