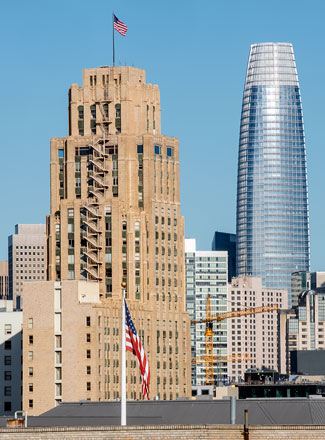 William Taylor Hotel and Salesforce Tower
24 November 2019
(Click Photo to Zoom)
William Taylor Hotel, completed in 1920, has 28 stories
and a height of 308 feet.
Salesforce Tower, completed in 2018, has 61 stories
and a height of 1,070 feet.
The two buildings are approximately 1.1 miles apart
as the crow flies.
William Taylor Hotel and Temple Methodist Church
AKA McAllister Tower Apartments
100 McAllister Street
Built 1920
In the early 1920s, four Methodist Episcopal congregations in San Francisco sold their churches and other properties to build a single large church housed in a temperance hotel. They hired the architectural firm of Miller and Pflueger.
Pflueger designed a stepped-back, Gothic revival highrise similar to his Pacific Telephone & Telegraph Company Building. The Temple Methodist Church, located on the second, third and fourth floors, accommodated 1,500 congregants. The hotel contained five hundred guest rooms. It was the tallest hotel on the West Coast for many decades.
When Miller and Pflueger were fired and replaced by Lewis P. Hobart, they successfully sued Hobart on the grounds that his design was little changed from Pflueger's design.
Methodists managed the property until 1936 when accumulated debt led to foreclosure. The William Taylor Hotel was replaced by the Empire Hotel which included the first view lounge in the San Francisco Bay Area, the Sky Room on the 24th floor. The floors which had housed the Temple Methodist Church became a parking lot.
(In 1935, Methodists purchased the nearby Hotel Californian, which replaced the William Taylor Hotel as San Francisco's only temperance hotel.)
When America entered World War II, the federal government bought the building and converted it to offices and billets.
In 1978, Hastings College of the Law (University of California) bought the building, renamed it McAllister Tower, and renovated units for students housing.
Source: Wikipedia

The building contributes to the Uptown Tenderloin Historic District.

In 2022, Hastings College of the Law was renamed University of California: College of the Law San Francisco because of the role Hastings played in the Round Valley Indian Massacre.