California Historical Landmark 518
Agua Fria
4189 Highway 140
Agua Fria
County Seat 1850-1851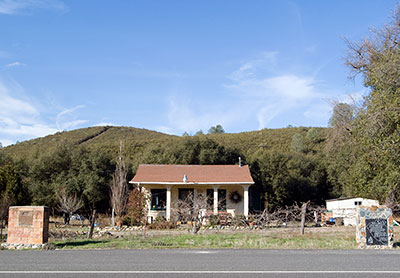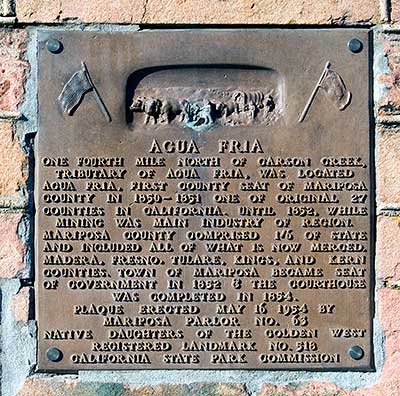 20 December 2006
(Click Photos to Zoom)
Agua Fria
One fourth mile north of Carson Creek, a tributary of Agua Fria, was located Agua Fria, first county seat of Mariposa County in 1850 - 1851 one of original 27 counties in California. Until 1852, while mining was main industry of region, Mariposa County comprised 1/6 of state and included all of what is now Merced, Madera, Fresno, Tulare, Kings, and Kern Counties. Town of Mariposa became the seat of government in 1852 & the courthouse there was completed in 1854.
Plaque erected May 16 1954 by Mariposa Parlor No. 63
Native Daughters of the Golden West
Registered Landmark No. 518
California State Park Commission

20 December 2006
(Click Photos to Zoom)
Agua Fria
Discovered by Sonoran miners in the early summer of 1849. It was located about a quarter mile above the two springs of cold water from which the town derived its name.
Agua Fria was the first county seat from Feb. 18, 1850 to Nov. 10, 1851. During this time the town consisted of about a dozen stores, three card monte, faro tables, a billiard room, hotel and bowling alley.
The town of Agua Fria soon declined, when in 1852 the town of Mariposa became the seat of government. On June 22, 1866 a fire broke out which destroyed the entire town and it was never rebuilt.
Dedicated by Matuca Chapter 1849
E Clampus Vitus
April 1, 2000 (6005)
Credo Quia Absurdum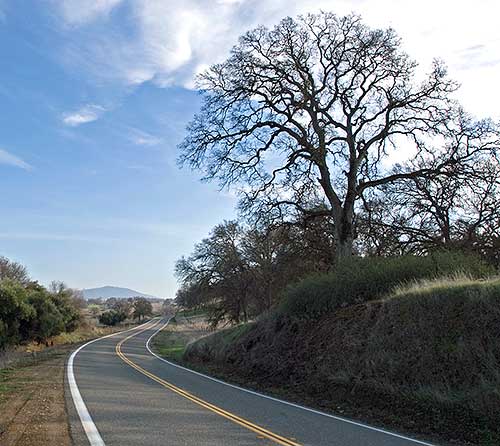 Hornitos Road Between Agua Fria and
Hornitos
20 December 2006
(Click Photo To Zoom)