California Historical Landmark 527
Savage Trading Post
Highway 140 at Confluence of Main and South Forks of Merced River
El Portal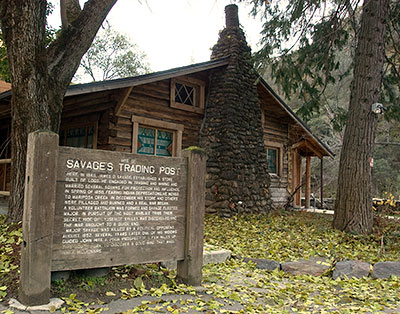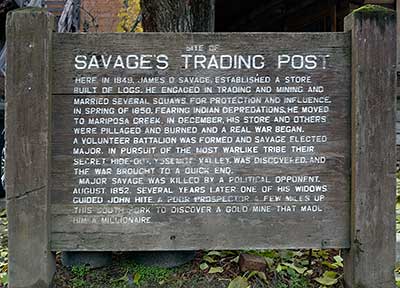 19 December 2006
(Click Photos to Zoom)
Savage's Trading Post
Here in 1849, James D. Savage established a store built of logs. He engaged in trading and mining and married several squaws for protection and influence. In spring of 1850, fearing Indian depredations, he moved to Mariposa Creek. In December, his store and others were pillaged and burned and a real war began. A volunteer battalion was formed and Savage elected mayor. In pursuit of the most warlike tribe, their secret hideout, Yosemite Valley, was discovered, and the war brought to a quick end.
Major Savage was killed by a political opponent, August 1852. Several years later one of his widows guided John Hite, a poor prospector, a few miles up this south fork to discover a gold mine that made him a millionaire.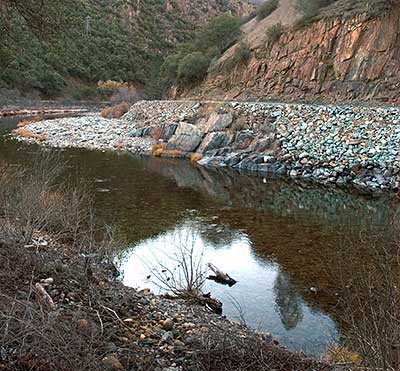 Merced River at Savage's Trading Post With the Yosemite Valley
Railroad Grade Across the River
19 December 2006
(Click Photo to Zoom)
The main fork of the Merced River has its source in the wilderness area of Yosemite National Park. The river flows freely through Yosemite Valley and continues to flow as a protected wild river until it is interrupted by the Exchequer Dam which opened in 1926 creating Lake McClure and inundating the Yosemite Valley Railroad station at Bagby.
State Route 140 follows the Merced River from Yosemite Valley to the suspension bridge in Briceburg between Savage's Trading Post and Mariposa. For the first half of the 20th Century, the Yosemite Valley Railroad carried vacationers from the town of Merced to El Portal. Much of the route ran through the Merced River Canyon and traces of the rock grade is visible in many places.