Audiffred Building in San Francisco
26 May 2008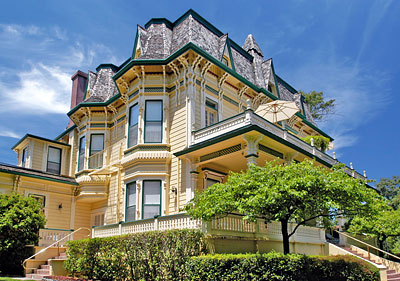 Madrona Manor in Healdsburg, California
4 June 2004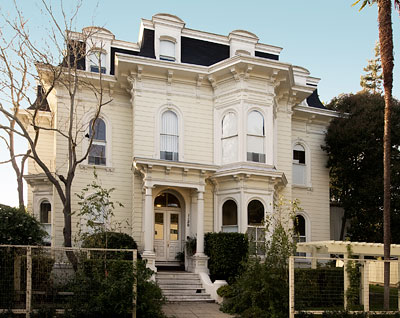 George E. Goodman Mansion in Napa, California
23 November 2010
(Click Photos to Zoom)
The Second Empire style was inspired by buildings constructed in Paris during the reign of Napoleon III from 1852 to 1870. The enlargement of the Louvre during between 1852 and 1857 revived the roof form developed by the 17th century French architect François Mansart.
The mansard roof was a hallmark of the Second Empire style. The mansard roof is a steep double-pitches roof usually pierced with dormer windows. Larger Second Empire buildings had central or end pavilions. Ornamentation for large Second Empire buildings included classical pediments, balustrades, and windows flanked by columns or pilasters.
Smaller Second Empire residences are difficult to characterize. Builders placed a mansard roof on almost any style of house however small or otherwise unassuming.
Year
Address
City
Sort Address
Sort Name
Alford-Nielson House
1877
1299 Main Street
Ferndale
Main 1299
Alford-Nielson House
Audiffred Building
1889
1-21 Mission Street
San Francisco
Mission 0001
Audiffred Building
Bockius House
1870
322 East Beach Street
Watsonville
Beach 0322
Bockius House
Bontadelli House
1907
119 Cayuga Street
Salinas
Cayuga 0119
Bontadelli House
Burr Mansion
1875
1772 Vallejo Street
San Francisco
Vallejo 1772
Burr Mansion
Churchill Manor
1889
485 Brown Street
Napa
Brown 0485
Churchill Manor
Dallam-Merritt House
1870
2355 Washington Street
San Francisco
Washington 2355
Dallam-Merritt House
Eureka Odd Fellows Hall
1883
123 F Street
Eureka
Street F 0123
Eureka Odd Fellows Hall
Francis House
1886
1403 Myrtle Street
Calistoga
Myrtle 1403
Francis House
Gillmore House
1870
40 Mill Street
Point Arena
Mill 040
Gillmore House
Goodman Mansion
1873
1120 Oak Street
Napa
Oak 1120
Goodman Mansion
Havens Mansion
1884
1381 South Van Ness Avenue
San Francisco
South Van Ness
Havens Mansion
Kienlen-Harbeck Building
1900
147 Southwest G Street
Grants Pass, OR
Street G SW 0147
Kienlen-Harbeck Building
Madrona Manor
1880
1001 Westside Road
Healdsburg
Westside 1001
Madrona Manor
Mansion House Hotel
1871
418-424 Main Street
Watsonville
Main 0418
Mansion House Hotel
Palmer House
1873
1300 Cedar Street
Calistoga
Cedar 1300
Palmer House
Savage Mansion
1861
146 D Street
Virginia City, NV
D 0146
Savage Mansion
Smith House
1875
1929 1st Street
Napa
0 Street 01 1929
Smith House
South Hall
1873
South Hall Road
UC Berkeley
South Hall Road
South Hall
Stanford House
1857
800 N Street
Sacramento
Street N 080
Stanford House
Zalud House
1891
393 North Hockett Street
Porterville
Hockett N 0393
Zalud House
Perine House
1911
535 Powell Street
San Francisco
Powell 0535
Perine House
Fourth Ward School
1876
South C Street
Virginia City
Street C S 0100
Fourth Ward School