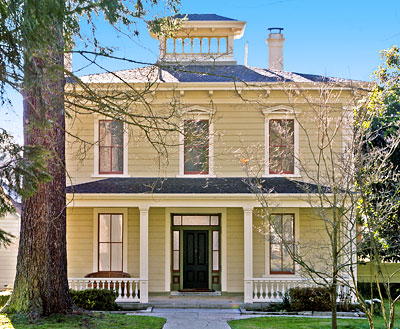 Martin Luther Marsh House in Nevada City, California
Built 1873
Photographed 14 December 2005
(Click Photo to Zoom)
Georgian buildings are symmetrical boxes, usually two stories high and two rooms deep. The main entrance is often a projecting pavilion with pilasters, a paneled door, and a Palladian or Venetian window.
Characteristics are:
Coursed ashler walls or simulated ashler walls with quoins.
Dormer windows.
Double hung sash windows with multiple panes of glass in each sash.
Cornice molding, typically dentils.
Multiple chimneys.