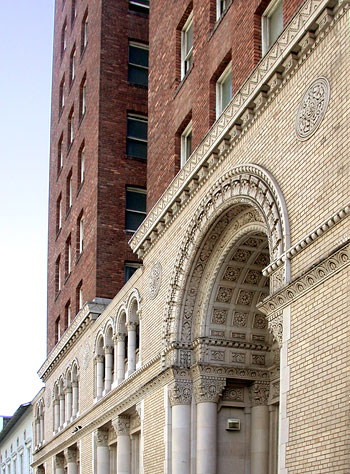 Y.M.C.A. Hotel in San Francisco
National Register #86000148
Built 1928
Photographed 12 March 2004
(Click Photo to Zoom)
San Francisco native, Frederick Meyer, who had no formal architectural training, was hired as a draftsman by builders Campbell and Pettus in 1896. In 1898, he went to work for architect Samuel Newsom, who soon promoted him to partner.
In 1902, Meyer entered into a partnership with Smith O'Brien. Their partnership lasted for 6 years.
Meyer opened his own office in 1908 in the Humboldt Bank Building which he had designed with O'Brien and which had been rebuilt after the 1906 Earthquake and Fire.
Mayor Sunny Jim Rolph Meyer appointed Meyer, John Galen Howard and John Reid, Jr., to lay out the plan for building a new Civic Center in conjunction with the rebuilding of City Hall.
Year
Address
City
Sort Address
Sort Name
Apartment Building
1904
2021-2023 Baker Street
San Francisco
Baker 2021
Apartment Building
Apartment Building
1901
2474-2478 Broadway
San Francisco
Broadway 2474
Apartment Building
Apartment Building
1910
980 Bush Street
San Francisco
Bush 0980
Apartment Building
Apartment Building
1910
999 Bush Street
San Francisco
Bush 0999
Apartment Building
Apartment Building
1914
2195 Green Street
San Francisco
Green 2195
Apartment Building
Apartment Building
1899
1916 Octavia Street
San Francisco
Octavia 1916
Apartment Building
Apartment Building
1900
1901 Pacific Avenue
San Francisco
Pacific 1901
Apartment Building
Apartment Building
1913
775 Post Street
San Francisco
Post 0775
Apartment Building
Apartment Building
1915
956 Post Street
San Francisco
Post 0956
Apartment Building
Apartment Building
1913
795 Sutter Street
San Francisco
Sutter 0795
Apartment Building
Apartment Building
1918
2595 Washington Street
San Francisco
Washington 2595
Apartment Building
Cadillac Hotel
1907
366-394 Eddy Street
San Francisco
Eddy 0366
Cadillac Hotel
Coffin-Redington Building
1937
301 Folsom Street
San Francisco
Folsom 0301
Coffin-Redington Building
Humboldt Bank Building
1908
785 Market Street
San Francisco
Market 0785
Humboldt Bank Building
North End Police Station
1912
2475 Greenwich Street
San Francisco
Greenwich 2475
North End Police Station
PG&E Substation J
1914
565 Commercial Street
San Francisco
Commercial 0565
PG&E Substation J
Residence
1902
2032-2034 Baker Street
San Francisco
Baker 2032
Residence
Residence
1902
2480 Broadway
San Francisco
Broadway 2480
Residence
Residence
1917
2430 Pacific Avenue
San Francisco
Pacific 2430
Residence
Residence
1909
2756 Steiner Street
San Francisco
Steiner 2756
Residence
Rialto Building
1902
116 New Montgomery Street
San Francisco
New Montgomery
Rialto Building
Union Iron Works Powerhouse
Marina Village Parkway Near Mariner Square Drive
Alameda
Marina
Union Iron Works Powerhouse
YMCA Hotel
1928
351 Turk Street
San Francisco
Turk 0351
YMCA Hotel
Union Iron Works Main Office
1917
20th and Illinois Streets
San Francisco
Street 20 0100
Union Iron Works Main Office