Telegraph Hill
Bounded by Greenwich, Sansome, Montgomery, and Green Streets
Designated in 1986
Telegraph Hill has been a visual landmark to sailors entering the Bay since its European discovery by Capt. Juan Manuel de Ayala in the San Carlos on August 5, 1775.
Telegraph Hill is famous as "the hill that's been around the world." Great portions of it were blasted out for ballast in sailing ships, "ultimately to be used to pave the streets of various exotic places."
The rock was used not only for ballast, but also to build Gold Rush era warehouses in a combination of brick and stone known as rubble; to fill the Bay for flatlands east of the Hill; and to build the seawall which stabilized San Francisco's waterfront.
The last quarrying occurred as late as 1914.
The Historic District is a unique expression of the pattern of development on the east slope of Telegraph Hill from 1850 to 1939. The difficult access and the proximity to the active waterfront produced a community of waterfront workers housed in cloth-lined shacks and modest vernacular Gothic Revival houses. Intact groupings of these buildings comprise the City's largest concentration of pre-1870 structures.
During the 19th and early 20th centuries, Telegraph Hill remained isolated, bypassed by cable car and streetcar lines. Steps, wooden walkways and a hidden network of footpaths developed throughout the area.
Street paving (Montgomery and Alta in 1931 then Union and Calhoun in 1939–1940) improved accessibility and heralded new development.
Low property values facilitated real estate development. Owners retained architects who produced a collection of noteworthy and innovative designs. Among these are Richard Neutra's International Style Kahn House at 66–70 Calhoun Terrace (1939), and Irvine Goldstine's Art Moderne Malloch Apartment Building at 1360 Montgomery Street (1936).
Adapted from San Francisco Planning Code: Article 10, Appendix G.

Telegraph Hill is also
California Landmark 91
.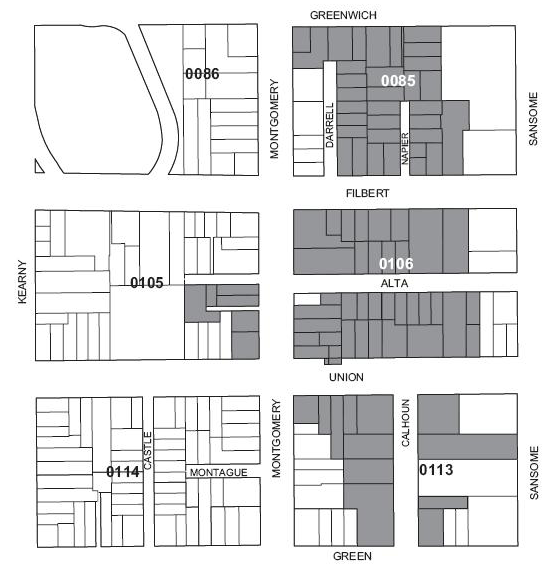 Map courtesy of San Francisco Planning Department