California Historical Landmark 236
First Ship into San Francisco Bay
Beach and Larkin Streets in Aquatic Park
1775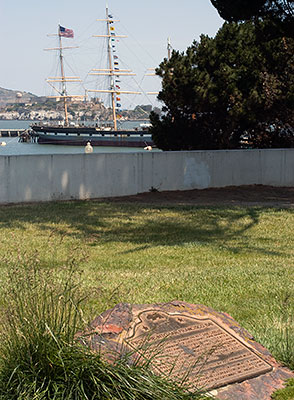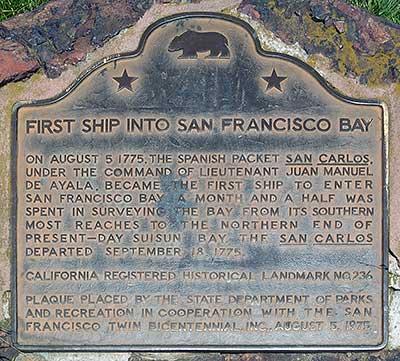 25 May 2008
(Click Photos to Zoom)
First Ship Into San Francisco Bay
On August 5 1775, the Spanish packet San Carlos, under the command of Lieutenant Juan Manuel de Ayala, became the first ship to enter San Francisco Bay. A month and a half was spent in surveying the bay from its southernmost reaches to the northern end of present-day Suisun Bay. The San Carlos departed September 18, 1775.
California Registered Historical Landmark No. 236
Plaque placed by the State Department of Parks and Recreation in cooperation with the San Francisco Twin Bicentennial, Inc., August 5, 1975.

The
San Carlos
was anchored in San Francisco Bay for forty-four days , first off
Fort Point
then off
Angel Island
. From the Angel Island Anchorage, pilot Don Jose de Canizares led a crew in the ship's launch to explore and map the San Francisco and San Pablo Bays. Their map shows Spanish names which survive today in Anglicized form.
Isla de los Angeles
,
Saucelito
, and
Isla de Alcatraces
became Angel Island, Sausalito, and Alcatraz. (The Ayala expedition actually gave the name
Isla de Alcatraces
to the island later named Goat Island, then
Yerba Buena Island
, but an English sea captain drew a map in 1826 which showed the wrong island labelled Alcatraz, and his mistake prevailed.)