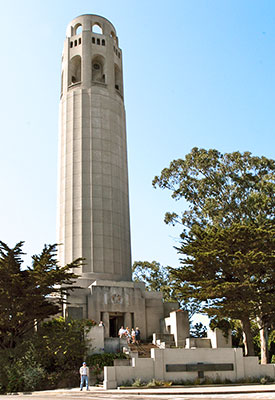 22 June 2003
San Francisco Landmark #165
Coit Tower
1 Telegraph Hill Boulevard
Built 1933
It is widely known in San Francisco that Lillie Hitchcock Coit had a strong and enduring affection for firemen. Some people will tell you that her gift to the people of San Francisco is modeled after the nozzle of a firehose. Others, of a more salacious bent, will tell you it commemorates some particular fireman's hose. Pretty stories, but the facts, alas, do not support them.
The art deco tower, constructed of unpainted reinforced concrete, was designed by architects Arthur Brown, Jr. and Henry Howard with murals by twenty-five artists. Brown contributed to the design of many the most prominent buildings in San Francisco including City Hall and the War Memorial Complex.

A plaque reads:
Coit Tower
This 210 foot monument was built in 1933 with monies bequeathed by Lillie Hitchcock Coit to beautify The City she loved. Frescoes were painted in the interior of the newly built structure by local artists funded through the United States Government's Public Works of Art Project.
This plaque is placed by the Recreation and Park Commission October 8, 1983 to mark Coit Tower's 50th Anniversary and its designation as an historic landmark.

Coit Tower was
listed on the National Register of Historic places in 2007
.
Telegraph Hill is a San Francisco Historic District and a California Landmark.