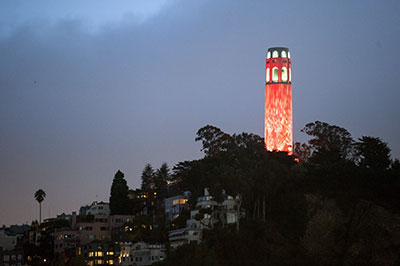 Coit Tower During Americas Cup Races
13 September 2012
National Register #07001468
Coit Memorial Tower
1 Telegraph Hill Boulevard
In January 1934, after receiving funds from the Civil Works Administration, artists transformed the interior of Coit Tower into a gallery of frescos and murals, the first and largest Public Works of Art Project (PWAP). Other large Public Works of Art Projects in San Francisco were undertaken at the Rincon Annex Post Office and the Beach Chalet.
Twenty-six of San Francisco's master artists and their nineteen notable assistants turned the rotunda into three wings thematically divided and depicting California life in all its various aspects. A wing depicts industrial production and science. A wing depicts San Francisco food production. A wing depicts life in The City. The artwork was done in the American Social Realism style.
The sections were divided between artists based upon their reputation. The bigger the reputation, the bigger the section. The most famous artists received 10 foot by 36 foot sections. Lesser known artists received 10 foot by 4 foot sections.
The stairwell was designed by San Francisco artist Lucian Labaudt and depicts busy downtown scenes of Powell Street in 1934 using all familiar faces. His two frescos, the largest painted by a single artist in Coit Tower, extend 6 feet by 32 feet up the stairwell.
The upstairs was painted by the Ivory Tower Group of the Regionalists faction, artists who desired to preserve the sentimental illusion of an isolated American purity with a nationalistic streak, even as the fabric of the nation was tattered by the protracted Great Depression.
Adapted from the NRHP Nomination Form.