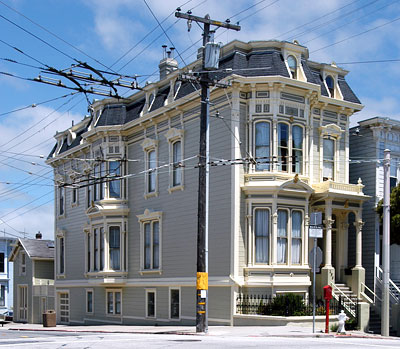 198 Haight Street and Barn on Laguna Street
Italianate Style with Mansard Roof and Eastlake Detail
San Francisco Landmark #164
McMorry-Lagan Residence
188 and 198 Haight Street 188 and Barn on Laguna Street
Built 1883 and 1889
The McMorry-Lagan House is an important Victorian complex consisting of two single family dwellings and a barn.
The buildings are significant for their unusually intact condition, both exterior and interior. The interior is a virtual time capsule of late 19th century lifestyle. Only modest adjustments have been made to the systems of the building such as partial electrification.
The upstairs bedrooms retain functional gaslights and the kitchen and baths retain their original fixtures including a copper bathtub. Original carpeting, wallpapering and custom furniture dating from the time of construction highlight the residences.
The barn was used for emergency sleeping quarters by the soldiers from the Presidio fighting the 1906 fire. The Lagan family was ordered evacuated from the houses at 2:00 AM on the morning of April 19, 1906. The fire was stopped two blocks away to the east. Blankets marked U.S. Army used by the soldiers remain in the barn.
When the buildings became a San Francisco landmark in 1983, they were still owned by the family who had built them a century earlier.
Adapted from San Francisco Planning Commission Resolution 9719, March 16, 1983.