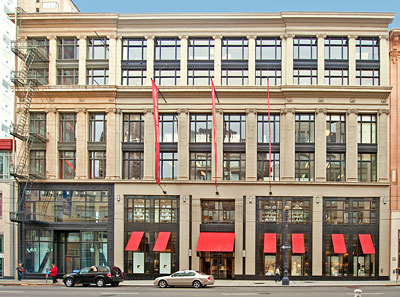 Gump's
135 Post Street, San Francisco
20 February 2012
(Click Photo to Zoom)
Gump's is an old San Francisco specialty store, first built in 1861 for Solomon Gump and remodeled after the fire by Clinton Day for A. Livingston Gump with the particular idea of providing a setting for Asian art work.
The existing building is a handsome design which is still closer than most in appearance to mid-19th century San Francisco commercial buildings. In composition, it is a modified Renaissance palazzo. It is a brick building with wood posts and is clad along its main facade in Colusa sandstone. Its dark color, distinctive design, gabled parapet, and red awnings, all contribute to its importance as a major element along Post Street.
From Splendid survivors: San Francisco's Downtown Architectural Heritage by Michael R. Corbett
The following obituary was published, above the fold, on the first page of the Berkeley Daily Gazette, January 11, 1916.
Clinton Day, well known architect, died early this morning at his home 2427 Bancroft Way, following a brief illness of heart trouble. Day designed some of the best known buildings on the University [UC Berkeley] campus, the Stanford Memorial Chapel, Union Trust Company building, Wells Fargo Nevada National Bank building and the City of Paris in Chicago [sic]. He was 68 year old.

Day was a graduate of the old College of California in Oakland in 1865, a year before it was created into [sic] the University of California and moved to Berkeley. At the ceremonies which celebrated the fiftieth anniversary of the founding of the University of California, held in 1910, he was signally honored by the university with the degree of LL.D.

Day's father was Sherman Day, at one time surveyor-general of the United States, and surveyor of the first highway extending across the United States from ocean to ocean. His grandfather, Jeremiah Day, was for thirty years president of Yale University.

He was born in Brooklyn in 1847 and came to California as a boy in 1855. He was one of five graduates from the College of California in 1868 and ten years later established his home in Berkeley, living here until the time of his death. Day was a member of the Phi Beta Kappa honor society and of the Faculty and Union League clubs. He was one of the leaders of his profession in the state and highly honored and esteemed by associates in his work.
Year
Address
City
Sort Address
Sort Name
Golden Sheaf Bakery
1905
2069-2071 Addison Street
Berkeley
Addison 2069
Golden Sheaf Bakery
Treadwell Mansion
1875
5212 Broadway
Oakland
Broadway 5212
Treadwell Mansion
City of Paris
1906
Geary and Stockton Streets
San Francisco
Geary
City of Paris
Union Trust Bank
1910
744 Market Street
San Francisco
Market 0744
Union Trust Bank
Underwriters Fire Patrol
1910
147 Natoma Street
San Francisco
Natoma
Underwriters Fire Patrol
Gump's
1906
135 Post Street
San Francisco
Post 0135
Gump's
UC Berkeley Budd Hall
1897
UC Berkeley
UC Berkeley Budd Hall
UC Berkeley Agriculture Building
1887
UC Berkeley
UC Berkeley Agriculture Building