California Historical Landmark 937
Site of Liberty Bell Slot Machine
406 Market Street At Battery
Financial District
1898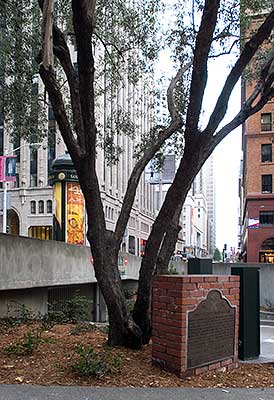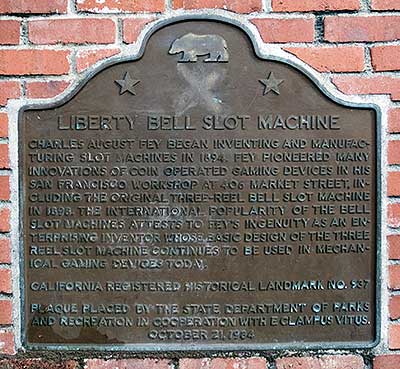 14 May 2008
(Click Photos to Zoom)
Liberty Bell Slot Machine
Charles August Fey began inventing and manufacturing slot machines in 1894. Fey pioneered many innovations of coin operated gaming devices in his San Francisco workshop at 406 Market Street, including the original three-reel bell slot machine in 1898. The international popularity of the bell slot machines attests to Fey's ingenuity as an enterprising inventor whose basic design of the three reel slot machine continues to be used in mechanical gaming devices today.
California Registered Historical Landmark No. 937
Plaque placed by the State Department of Parks and Recreation in cooperation with E Clampus Vitus
October 21, 1984.

The plaque stands inconspicuously under a tree east of the Crown-Zellerbach building at the intersection of Market and Battery Streets.
Nothing remains of Charles Fey's workshop.
To see his ingenious, beautiful, dangerous machines, you must leave San Francisco and head for Reno to the Liberty Belle Saloon and Restaurant owned by Mr. Fey's sons, Marshall and Frank, since 1958. There you will find many slot machines, including the first three-reels, the first draw poker machine and the first three-reel dollar slot.

The Liberty Belle Saloon and Restaurant closed in 2006 and was razed to provide parking for the Reno-Sparks Convention Center. The slot machines were moved to the Nevada State Museum in Carson City.

On 31 October 2019, I received a short email from the manager of the Inspection & Enforcement Division, Bureau of Street Use & Mapping, San Francisco Department of Public Works. The email, which included copies of the images at the top of this web page, read:
Do you know the party responsible for maintenance and repair of the Liberty Bell Slot Machine located at 406 Market Street at Battery? Your assistance is much appreciated.
I replied:
California landmarks are nominated by private individuals and reviewed and approved by the State Historical Resources Commission and California State Parks. The markers and bases are funded by private individuals, not the State of California.

The slot machine marker was sponsored (a long time ago) by E Clampus Vitus, an organization that is still active and has erected many historical markers in California and Nevada. I don't know which ECV chapter sponsored this marker, but I would guess it's Yerba Buena #1.

ECV YB1
PO Box 25012
San Mateo, CA 94402

If no one claims responsibility for the marker, two organizations that might be interested in maintaining it are the Nevada State Museum in Carson City or the State of Nevada Gaming Commission.

It would be a shame to lose this marker. How many people know that the slot machine was invented in San Francisco?
On Thanksgiving Day, I was in he Financial District and walked to the nearby Liberty Bell marker to see why it needed to be repaired. I was pleased to discover that the Clampers had already repaired it on November 10th and signed their work.
Top of the Marker
28 November 2019
(Click Photos to Zoom)