California Historical Landmark 937
Site of Liberty Bell Slot Machine
406 Market Street At Battery
Financial District
1898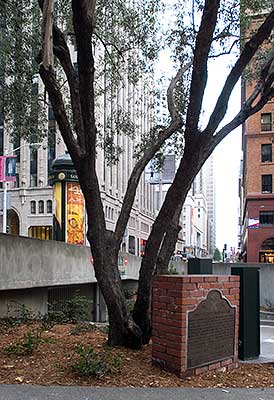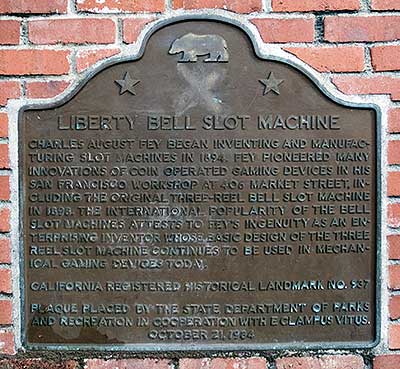 14 May 2008
(Click Photos to Zoom)
Liberty Bell Slot Machine
Charles August Fey began inventing and manufacturing slot machines in 1894. Fey pioneered many innovations of coin operated gaming devices in his San Francisco workshop at 406 Market Street, including the original three-reel bell slot machine in 1898. The international popularity of the bell slot machines attests to Fey's ingenuity as an enterprising inventor whose basic design of the three reel slot machine continues to be used in mechanical gaming devices today.
California Registered Historical Landmark No. 937
Plaque placed by the State Department of Parks and Recreation in cooperation with E Clampus Vitus
October 21, 1984.

The plaque stands inconspicuously under a tree east of the Crown-Zellerbach building at the intersection of Market and Battery Streets.
Nothing remains of Charles Fey's workshop.
To see his ingenious, beautiful, dangerous machines, you must leave San Francisco and head for Reno to the Liberty Belle Saloon and Restaurant owned by Mr. Fey's descendants. There you will find many slot machines, including the first three-reels, the first draw poker machine and the first three-reel dollar slot.