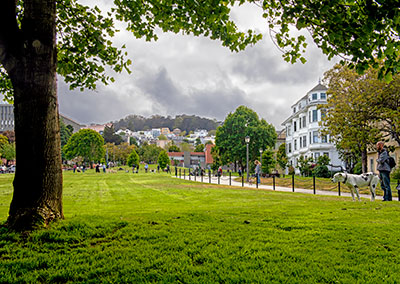 Duboce Park. The trees on the hill in the background are in Buena Vista Park in the Haight-Ashbury neighborhood.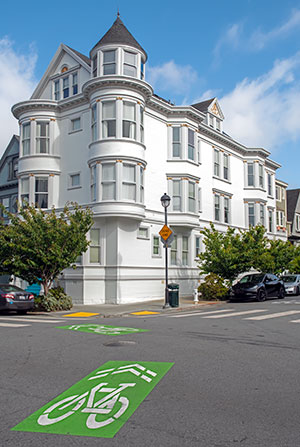 A turn in The Wiggle bike route at Waller and Pierce.
The Victorian Alliance attributes these buildings in the 600 block of Waller street to homebuilder Fernando Nelson. They were built shortly before the 1906 Earthquake and Fire.

22 June 2023
Duboce Park Historic District
Bounded by Scott Street, Waller Street, Steiner Street, Duboce Park
Built 1899-1902
The Duboce Park Historic District contains eighty-seven contributing residential buildings, mostly built between 1899 and 1902. This short period, along with the small number of builders, created a uniform streetscape of Victorian and Edwardian houses and flats.
Homebuilder Fernando Nelson (1860-1953) designed and built about half of the residences in the district, including almost all on Carmelita and Pierce Streets. He was known for Queen Anne residences with exuberant ornamentation and elaborately applied millwork.
Source: San Francisco Planning Code, Article 10, Appendix N.

The Duboce Park neighborhood is flat. The Wiggle runs through it. The Wiggle is a one-mile bicycle route from Market Street to Golden Gate Park that minimizes hills by following the paved-over route of the Sans Souci Valley watercourse. Before Europeans settled in San Francisco, this route ran between the Indian villages of Chutchui (near the current site of Mission Dolores) and Petlenuc (near the current site of Crissy Field).
When San Francisco Presidio and Mission Dolores were founded in 1776, the trail became a horseback connector eventually called the Old Spanish Trail.
In the 19th century, the trail was the commute route for military personnel who lived in the Mission District and worked at the Presidio.
In the 1860s, the trail was widened to become a toll road, passable by carriages, and going by the name Divisadero. In the 1870s, a grid of streets was imposed in its place, one street retaining the old road's name, across a newly formed neighborhood with all the sandy hills and steep gullies filled or scraped flat.
Source: Wikipedia