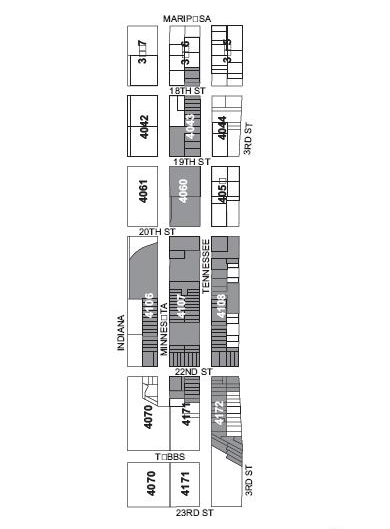 Map Courtesy of San Francisco
Planning Department
Dogpatch
Bounded by Mariposa, Tubbs, 3rd, and Indiana Streets
Built 1867-1945
Designated December 2008
Initially developed in the early 1870s, Dogpatch contains the oldest and most intact concentration of industrial workers' housing in San Francisco.
No other district of San Francisco or California was industrialized to the degree of Potrero Point during the last quarter of the 19th Century. The shipyards and other maritime-related industries of Potrero Point required a steady supply of inexpensive immigrant labor in an area that was geographically cut off from the rest of the City. Local developers and landholders, including Santa Fe Land Improvement Company, responded to this need by constructing rows of inexpensive cottages and selling individual parcels to laborers and their families, allowing the neighborhood to develop as an informal company town.
Residences within the district reflect vernacular forms of architectural styles that were prevalent throughout the country, including Greek Revival, Queen Anne, Italianate, Eastlake and Classical Revival styles, or combinations thereof. The district has several clusters, and pairs of identical dwellings, including a group of thirteen identical Eastlake-style cottages based on the plans of San Francisco architect John Cotter Pelton, Jr.
Adapted from San Francisco Planning Code: Article 10, Appendix L

For more about the Central Waterfront, see Pier 70 San Francisco.
| Name | Year | Address | Remarks | Sort Address | Sort Name |
| --- | --- | --- | --- | --- | --- |
| Residence | | 2300 3rd Street | | Street 03 2300 | Residence |
| Residence | | 2310 3rd Street | | Street 03 2310 | Residence |
| Residence | | 2342-2344 3rd Street | | Street 03 2342 | Residence |
| Residence | | 2376-2378 3rd Street | | Street 03 2376 | Residence |
| Residence | | 2500-2502 3rd Street | | Street 03 2500 | Residence |
| Residence | | 2518-2520 3rd Street | | Street 03 2518 | Residence |
| Residence | | 2620 3rd Street | | Street 03 2620 | Residence |
| Residence | | 2624-2626 3rd Street | | Street 03 2624 | Residence |
| Residence | | 2628-2632 3rd Street | | Street 03 2626 | Residence |
| Residence | | 2636-2638 3rd Street | | Street 03 2636 | Residence |
| Residence | | 707 18th Street | | Street 18 0707 | Residence |
| Residence | | 700-702 22nd Street | | Street 22 0700 | Residence |
| Residence | | 714 22nd Street | | Street 22 0714 | Residence |
| Residence | | 718 22nd Street | | Street 22 0718 | Residence |
| Residence | | 726-732 22nd Street | | Street 22 0726 | Residence |
| Residence | | 800-802 22nd Street | | Street 22 0800 | Residence |
| Residence | | 806 22nd Street | | Street 22 0806 | Residence |
| Residence | | 807 22nd Street | | Street 22 0807 | Residence |
| Residence | | 808–810 22nd Street | | Street 22 0808 | Residence |
| Residence | | 812–814 22nd Street | | Street 22 0812 | Residence |
| Residence | | 816–818 22nd Street | | Street 22 0816 | Residence |
| Residence | | 820–824 22nd Street | | Street 22 0820 | Residence |
| Residence | | 825–829 22nd Street | | Street 22 0825 | Residence |
| Residence | | 833 22nd Street | | Street 22 0833 | Residence |
| Residence | | 834–840 22nd Street | | Street 22 0834 | Residence |
| Residence | | 845 & 849 22nd Street | | Street 22 0845 | Residence |
| Residence | | 894–898 22nd Street | | Street 22 0894 | Residence |
| Residence | | 900–902 22nd Street | | Street 22 0900 | Residence |
| Residence | | 904–922 22nd Street | | Street 22 0904 | Residence |
| Residence | | 890–900 Minnesota Street | | Minnesota 0890 | Residence |
| Residence | | 903 Minnesota Street | | Minnesota 0903 | Residence |
| Residence | | 905 Minnesota Street | | Minnesota 0905 | Residence |
| Residence | | 907 Minnesota Street | | Minnesota 0907 | Residence |
| Residence | | 909 Minnesota Street | | Minnesota 0909 | Residence |
| Residence | | 911 Minnesota Street | | Minnesota 0911 | Residence |
| Residence | | 913 Minnesota Street | | Minnesota 0913 | Residence |
| Residence | | 914-916 Minnesota Street | | Minnesota 0914 | Residence |
| Residence | | 915 Minnesota Street | | Minnesota 0915 | Residence |
| Residence | | 917-919 Minnesota Street | | Minnesota 0917 | Residence |
| Residence | | 918 Minnesota Street | | Minnesota 0918 | Residence |
| Residence | | 920-922 Minnesota Street | | Minnesota 0920 | Residence |
| Residence | | 921 Minnesota Street | | Minnesota 0921 | Residence |
| Residence | | 923 Minnesota Street | | Minnesota 0923 | Residence |
| Residence | | 924-926 Minnesota Street | | Minnesota 0924 | Residence |
| Residence | | 930-932 Minnesota Street | | Minnesota 0930 | Residence |
| Residence | | 934 Minnesota Street | | Minnesota 0934 | Residence |
| Residence | | 944-946 Minnesota Street | | Minnesota 0944 | Residence |
| Residence | | 945-947 Minnesota Street | | Minnesota 0945 | Residence |
| Residence | | 948-950 Minnesota Street | | Minnesota 0948 | Residence |
| Residence | | 949-951 Minnesota Street | | Minnesota 0949 | Residence |
| Residence | | 952-954 Minnesota Street | | Minnesota 0952 | Residence |
| Residence | | 958 Minnesota Street | | Minnesota 0958 | Residence |
| Residence | | 962-964 Minnesota Street | | Minnesota 0962 | Residence |
| Residence | | 966-968 Minnesota Street | | Minnesota 0966 | Residence |
| Residence | | 972-976 Minnesota Street | | Minnesota 0972 | Residence |
| Residence | | 694 Tennessee Street | | Tennessee 0694 | Residence |
| Residence | | 700-702 Tennessee Street | | Tennessee 0700 | Residence |
| Residence | | 704 Tennessee Street | | Tennessee 0700 | Residence |
| Residence | | 712–716 Tennessee Street | | Tennessee 0704 | Residence |
| Residence | | 718–720 Tennessee Street | | Tennessee 0718 | Residence |
| Residence | | 724–726 Tennessee Street | | Tennessee 0724 | Residence |
| Residence | | 730–732 Tennessee Street | | Tennessee 0730 | Residence |
| Residence | | 740 Tennessee Street | | Tennessee 0740 | Residence |
| Residence | | 800–850 Tennessee Street | | Tennessee 0800 | Residence |
| Residence | | 900 Tennessee Street | | Tennessee 0900 | Residence |
| Residence | | 909 Tennessee Street | | Tennessee 0909 | Residence |
| Residence | | 950 Tennessee Street | | Tennessee 0950 | Residence |
| Residence | | 970 Tennessee Street | | Tennessee 0970 | Residence |
| Residence | | 997–999 Tennessee Street | | Tennessee 09097 | Residence |
| Residence | | 1002 Tennessee Street | | Tennessee 1002 | Residence |
| Residence | | 1004 Tennessee Street | | Tennessee 1004 | Residence |
| Residence | | 1008 Tennessee Street | | Tennessee 1008 | Residence |
| Residence | | 1010 Tennessee Street | | Tennessee 1010 | Residence |
| Residence | | 1011 Tennessee Street | | Tennessee 1011 | Residence |
| Residence | | 1012 Tennessee Street | | Tennessee 1012 | Residence |
| Residence | | 1014 Tennessee Street | | Tennessee 1014 | Residence |
| Residence | | 1015–1021 Tennessee Street | | Tennessee 1015 | Residence |
| Residence | | 1016–1018 Tennessee Street | | Tennessee 1016 | Residence |
| Residence | | 1036 Tennessee Street | | Tennessee 1036 | Residence |
| Residence | | 1042 Tennessee Street | | Tennessee 1042 | Residence |
| Residence | | 1045–1047 Tennessee Street | | Tennessee 1045 | Residence |
| Residence | | 1049–1051 Tennessee Street | | Tennessee 1049 | Residence |
| Residence | | 1053 Tennessee Street | | Tennessee 1053 | Residence |
| Residence | | 1059–1061 Tennessee Street | | Tennessee 1059 | Residence |
| Irving Murray Scott School | | 1060 Tennessee Street | | Tennessee 1060 | Irving Murray Scott School |
| Residence | | 1063–1065 Tennessee Street | | Tennessee 1063 | Residence |
| Residence | | 1067 Tennessee Street | | Tennessee 1067 | Residence |
| Residence | | 1074–1076 Tennessee Street | | Tennessee 1074 | Residence |
| Residence | | 1077–1079 Tennessee Street | | Tennessee 1077 | Residence |
| Residence | | 1078–1080 Tennessee Street | | Tennessee 1078 | Residence |
| Residence | | 1100 Tennessee Street | | Tennessee 1100 | Residence |
| Residence | | 1101–1103 Tennessee Street | | Tennessee 1101 | Residence |
| Residence | | 1104–1106 Tennessee Street | | Tennessee 1104 | Residence |
| Residence | | 1105–1107 Tennessee Street | | Tennessee 1105 | Residence |
| Residence | | 1108–1110 Tennessee Street | | Tennessee 1108 | Residence |
| Residence | | 1109–1111 Tennessee Street | | Tennessee 1109 | Residence |
| Residence | | 1112–1114 Tennessee Street | | Tennessee 1112 | Residence |
| Residence | | 1113–1115 Tennessee Street | | Tennessee 1113 | Residence |
| Residence | | 1116–1118 Tennessee Street | | Tennessee 1116 | Residence |
| Residence | | 1133–1135 Tennessee Street | | Tennessee 1133 | Residence |
| Residence | | 1139 Tennessee Street | | Tennessee 1139 | Residence |
| Residence | | 1159–1163 Tennessee Street | | Tennessee 1159 | Residence |
| Residence | | 1195 Tennessee Street | | Tennessee 1195 | Residence |
| Residence | | 1199 Tennessee Street | | Tennessee 1199 | Residence |