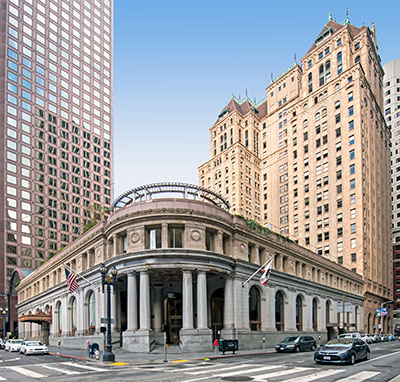 The buildings in the background are One Montgomery Tower and
Hunter-Dulin Building
.
28 November 2019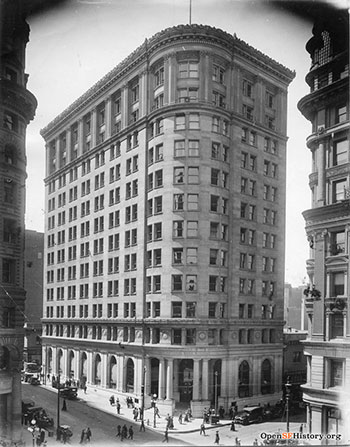 One Montgomery Street c1917
Photo courtesy OpenSFHistory/wnp27.6775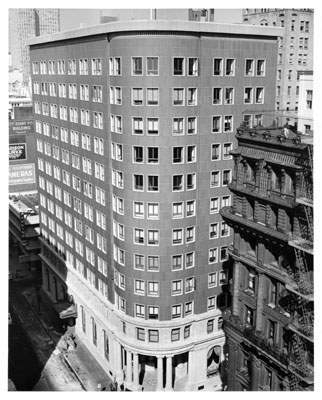 Crocker-Anglo Bank headquarters in 1962
clad in terra cotta.
Photo courtesy San Francisco Public Library
(Click Photos to Enlarge)
San Francisco Landmark 297
Crocker National Bank Building
AKA One Montgomery Street
1-25 Montgomery Street
Built 1908 and 1920
This Italian Renaissance Revival building at One Montgomery Street is actually two building on two parcels of land. The first building at One Montgomery Street was built in 1908. The second building at 25 Montgomery Street was built in 1920.
Willis Polk designed the earlier building as a banking hall and offices for First National Bank. The building originally had twelve stories. In 1926, First National was purchased by Crocker Bank and name was changed to Crocker National Bank.
The banking hall addition was built in 1920 with Charles E. Gottschalk as supervising architect although the design is attributed to Polk.
By the 1960s, the Indiana sandstone on the upper stories of the office tower was spalling and occasionally falling to the street. In 1962, the then Crocker-Anglo National Bank commissioned architect Milton Pflueger, the younger brother of Timothy Pflueger, to reface the exterior of the tower. One million pounds of Indiana and the ornamentation of the top two stories were removed. The limestone was replaced by a lightweight glazed terra cotta. Pflueger did not change the exterior of either the 1908 or 1920 banking halls which occupy the first two stories.
In 1982, Crocker Bank completed the 38-story One Montgomery Tower at the northeast corner of Post and Kearny Streets. In return for a height variance on the new tower, Crocker Bank removed the upper eleven stories of the Crocker National Bank Building.