National Register of Historic Places in San Francisco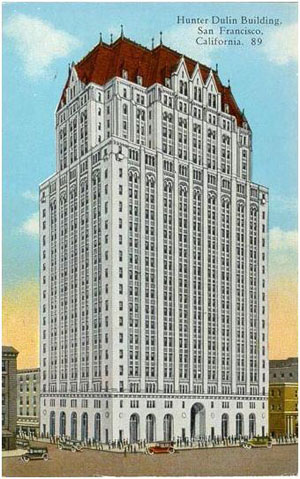 The Hunter-Dulin Building was the West Coast headquarters of the National Broadcasting Company from 1927 to 1942.
Postcard Courtesy of Bay Area Radio Museum
(Click Photos to Zoom)
National Register #97000348
Hunter-Dulin Building
111 Sutter Street Between Kearny and Montgomery
Built 1926
The following is from National Trust Guide/San Francisco: America's Guide for Architecture and History Travelers by Peter Booth Wiley.
The Los Angeles investment firm of Hunter, Dulin & Company hired the New York firm of Schultze and Weaver to design an office building. Leonard Schultze was chief of design for New York's Grand Central Terminal, and with his partner, Spencer Fullerton Weaver, designed a number of the most extravagant hotels built during the 1920s: the Pierre, the Sherry Netherlands, the Waldorf Astoria in New York and the Breakers in Palm Beach.

The twenty-five story Hunter-Dulin Building is a tripartite French Renaissance Revival structure clad with sand-colored Granitex on its primary façades and brick on the others. The shaft rises to an elaborate gabled mansard roof of terra-cotta tile with copper-coated cresting. The ornamentation is particularly elaborate, with flower and bird designs, medallions representing the four seasons, and the heads of men facing each other in some of the window alcoves.

The building's most famous tenant was fictitious: Dashiell Hammett's detective, Sam Spade.