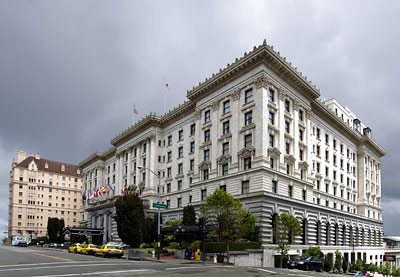 27 May 2010
Brocklebank Apartments
in Background of Photo
(Click Photo to Zoom)
National Register #02000373
Fairmont Hotel
950 Mason Street Between Sacramento and California
Built 1906
The Fairmont Hotel is notable for its architecture by Reid & Reid and Julia Morgan and for being one of the few Nob Hill survivors of the 1906 Earthquake and Fire.
The Fairmont Hotel was conceived and financed by Tessie Fair Oelrichs, the daughter of Senator James G. Fair, who made his fortune in the Comstock silver mines. She hired James and Merrit Reid to design a six-hundred room hotel in the Italian Renaissance style. In early 1906, before the hotel had opened, Ms. Fair traded it for other property. The new owners, Herbert and Hartland Law, planned to open it in the autumn of 1906.
The 1906 Earthquake and Fire damaged the Fairmont to the point that many experts thought that it could not be salvaged. Herbert Law, determined to repair the hotel, hired New York architect Stanford White who was shot and killed a few weeks after being hired. Mr. Law then hired a young architect named Julia Morgan.

The Cirque Room bar, designed by Miller & Pflueger, opened in 1935 soon after the end of Prohibition. According to the Fairmont Hotel website, the Cirque was the first bar to open in San Francisco following prohibition, and it was the place to go for entertainment in the City until the Venetian Room was opened. The Venetian Room is where Tony Bennett first sang I Left My Heart in San Francisco.
The United Nations Charter was signed in the Fairmont Hotel in 1945.

The Fairmont Hotel is also San Francisco Landmark 185.