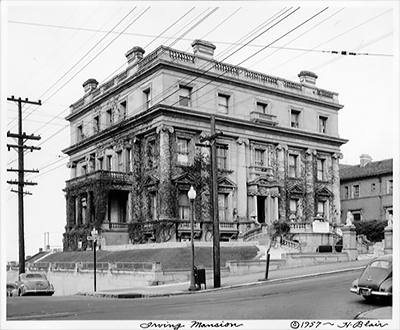 2190 Washington Street
Irwin Mansion c1957
Photo Courtesy San Francisco Public Library
(Click Photo to Zoom)
Dr. William G. Irwin commissioned the Reid brothers to design his family home on Lafayette Park, high above San Francisco Bay.
After Irwin's death in 1914, the building housed the country's first blood repository, later named the Irwin Memorial Blood Bank in 1941.
The Irwin Mansion was destroyed by fire in the late 1950s, and a twelve-story building, Washington Tower Apartments, replaced it.
You can see the Irwin Mansion in the 1934 movie, Fog Over Frisco, starring Bette Davis.

James W. Reid (1851-1943)
Merritt J. Reid (1855-1932)
The Reid brothers, James and Merritt, who were born in Canada, designed many San Francisco buildings during the City Beautiful period.
They opened their San Francisco office in 1889, and remained in business here until 1932 when Merritt died and James, one of the founders of the San Francisco Opera Company, turned full time to his hobbies of oil painting and music.
During their long and productive careers, the Reid Brothers were known especially for their Classical Revival mansions and movie theaters.
Year
Address
City
Sort Address
Sort Name
Alexandria Theater
1923
5400 Geary Boulevard
San Francisco
Geary 5400
Alexandria Theater
Amazon Theater
1928
965 Geneva Avenue
San Francisco
Geneva 0965
Amazon Theater
Avenue Theatre
1927
2650 San Bruno Avenue
San Francisco
San Bruno 2650
Avenue Theatre
Balboa Theater
1926
3630 Balboa Street
San Francisco
Balboa 3630
Balboa Theater
Breeden House
1894
2770 Broadway
San Francisco
Broadway 2770
Breeden House
Bullock & Jones Building
1923
340 Post Street
San Francisco
Post 0340
Bullock & Jones Building
California-Pacific Building
1910
105 Montgomery Street
San Francisco
Montgomery 0105
California-Pacific Building
Call-Post Building
1914
74 New Montgomery Street
San Francisco
New Montgomery 0074
Call-Post Building
Cliff House
1909
1090 Point Lobos Avenue
San Francisco
Point Lobos
Cliff House
Colisuem Theater
1918
745 Clement Street
San Francisco
Clement 0745
Colisuem Theater
Colombo Building
1913
1-21 Columbus Avenue
San Francisco
Columbus 0021
Colombo Building
Co-Op Apartments
1927
1100 Union Street
San Francisco
Union 1100
Co-Op Apartments
David Hewes Building
1908
995 Market Street
San Francisco
Market 0995
David Hewes Building
Drexler Estate Building
1908
938-942 Market Street
San Francisco
Market 0938
Drexler Estate Building
Embassy Theater
1905
1125 Market Street
San Francisco
Market 1125
Embassy Theater
Fairmont Hotel
1906
950 Mason Street
San Francisco
Mason 0950
Fairmont Hotel
First Congregational Church
1914
432 Mason Street
San Francisco
Mason 0432
First Congregational Church
Geneva Car Barn
1899
2301 San Jose Avenue
San Francisco
San Jose 2301
Geneva Car Barn
Gump's (Release 2)
1910
135 Post Street
San Francisco
Post 0135
Gump's (Release 2)
Hale Brothers Department Store
1907
901 Market Street
San Francisco
Market 0901
Hale Brothers Department Store
Hale House
1910
26 Presidio Terrace
San Francisco
Presidio Terrace 0026
Hale House
Harding Theater
1926
616 Divisadero Street
San Francisco
Divisadero 0616
Harding Theater
Hotel Lankershim
1919
55 Fifth Street
San Francisco
!Street 05 0055
Hotel Lankershim
Irwin Mansion (Destroyed by Fire)
1898
2190 Washington Street
San Francisco
Washington 2190
Irwin Mansion (Destroyed by Fire)
Merritt Building
1907
612 Howard Street
San Francisco
Howard 0612
Merritt Building
Metro Theater
1924
2055 Union Street
San Francisco
Union 2055
Metro Theater
Murphy Windmill Keeper's House
1909
Golden Gate Park
San Francisco
Golden Gate Park
Murphy Windmill Keeper's House
New Mission Theater
1916
2550 Mission Street
San Francisco
Mission 2550
New Mission Theater
New Sequoia Theater Building
1929
2211-2235 Broadway Street
Redwood City
Broadway 2211
New Sequoia Theater Building
Polo Grounds Stadium
1908
Golden Gate Park
San Francisco
Golden Gate Park
Polo Grounds Stadium
Rapp Building
1907
121 Second Street
San Francisco
!Street 02 0121
Rapp Building
Residence
1917
2646 Vallejo Street
San Francisco
Vallejo 2646
Residence
Riviera Theatre
1927
562 Haight Street
San Francisco
Haight 0562
Riviera Theatre
Roosevelt Theater
1924
2781 24th Street
San Francisco
!Street 24 2781
Roosevelt Theater
Rose Building
1908
216-220 Sutter Street
San Francisco
Sutter 0216
Rose Building
Royal Theater
1916
1529 Polk Street
San Francisco
Polk 1529
Royal Theater
Selfridge Houses
1894
2601-2611 California Street
San Francisco
Califronia 2601
Selfridge Houses
Sweasey Theater
1920
412 G Street
Eureka
!Street G 0412
Sweasey Theater
Theatre St. Francis
1916
333 Geary Street
San Francisco
Geary 0333
Theatre St. Francis
Weed House
1896
1919 Sacramento Street
San Francisco
Sacramento 1919
Weed House