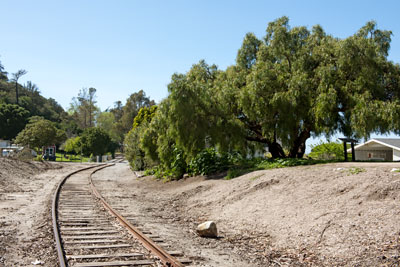 An interpretive marker stands under the large tree near the decommissioned tracks. A
California marker
is nearby.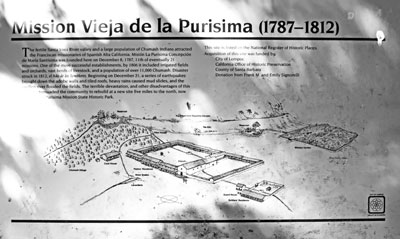 Interpretative Marker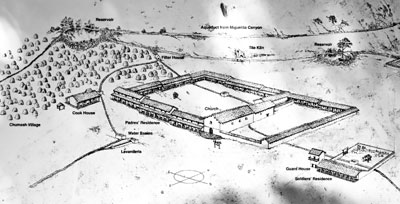 Detail of Interpretative Marker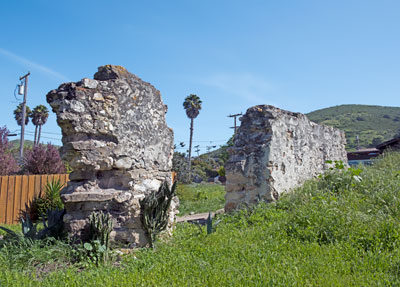 Little Has Survived
29 March 2017
(Click Photos to Zoom)
National Register #78000775
Original Mission Vieja de la Purisima
500 Block of South F Street at Railroad Tracks
Lompoc
Mission Vieja de la Purisima was founded by the Spanish on December 8, 1787, and was under the jurisdiction of the Presidio de Santa Barbara.
The Mission was destroyed by earthquake and accompanying floods on December 21, 1812, and the subsequent rebuilding took place on a new location some five miles away.
Source: Adapted from the NRHP nomination submitted in 1978.

The fertile Santa Ynez River valley and a large population of Chumash Indians attracted the Franciscan missionaries of Spanish Alta California.
Misión La Purisíma Concepción de María Santísima was founded here on December 8, 1787, 11th of eventually 21 missions. One of the more successful establishments, by 1806 it included irrigated fields and orchards, vast herds of livestock, and a population of over 11,000 Chumash.
Disaster struck in 1812, el Año de Los Temblores. Beginning on December 21, a series of earthquakes brought down the adobe walls and tiled roofs, heavy rains caused mud slides, and the swollen river flooded the fields. The terrible devastation, and other disadvantages of this location, persuaded the community to rebuild at a new site five miles to the north, now known as La Purisima Mission State Historic Park.
Source: The interpretive panel at the site.