California Historical Landmark 2
Portolá Journey's End
November 6-10, 1769
Intersection of East Creek Drive and Alma Street
Menlo Park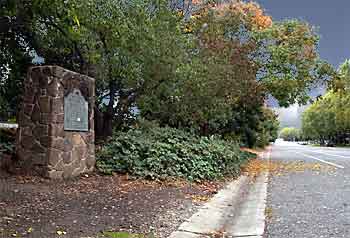 Click the Photo to Read the Plaque
Portolá Journey's End
November 6-10, 1769
Near "El Palo Alto", the tall tree, the Portolá expedition of 63 men and 200 horses and mules camped. They had traveled from San Diego in search of Monterey but discovered instead the Bay of San Francisco. Finding the bay too large to go around, and deciding that Monterey had been by-passed, they ended the search and returned to San Diego.
California Registered Historical Landmark No. 2
Plaque placed by State Department of Parks and Recreation in cooperation with the Portolá Expedition Bicentennial Foundation, November 8, 1968.

On the 6th, [the Portolá Expedition] reached the end of the cañada, which suddenly turned to the east, and saw that the estero was finished in a spacious valley. To the cañada they gave the name of San Francisco. Traveling a short distance towards the east, they camped on a deep arroyo, whose waters came down from the sierra and flowed precipitately into the estero. They were on the San Francisquito creek, near the site of Stanford University.
Having failed to get through to Point Reyes by the ocean beach route, Portolá now sent Ortega around by the contra costa giving him four days in which to explore the country and find the port containing the supply-ship.
Ortega with his exploradores, guided by some friendly Indians from the neighboring rancherías, set out after noon on November 7th and returned in the night of the 10th. He reported that he had seen no sign of port or ship, and was convinced he had not understood the information the Indians had tried to convey to him, and that the port of Monterey could not be in advance. They also reported that the country they had seen towards the north and northeast was impassable for the expedition, for the reason that the Indians had burned the grass and, in addition, were hostile and would dispute the passage. They said that they had encountered another immense estero on the northeast (Carquinez Strait), which also ran far inland and connected with the one on the southeast, and that to double it would take many leagues of travel.
During the absence of the explorers, the people of the expedition were compelled for want of meat to eat oak acorns, which caused them much suffering from indigestion and fever.
Portolá called a council of officers, on November 11th, to determine the best course to pursue. The decision was unanimous to return to the Point of Pines and renew the search for the elusive Puerto de Monterey, which they believed they had left behind. This was at once acted upon, and the command took up the march in the afternoon of that day, returning by the route of its coming....
From The March of Portolá and the Discovery of the Bay of San Francisco by Zoeth S. Eldredge