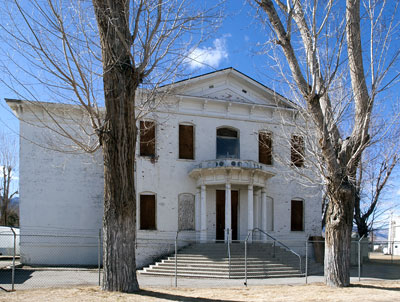 Both Photos 23 February 2007
(Click Photos to Zoom)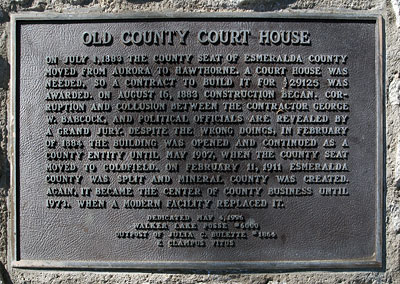 Old County Courthouse
On July 1, 1883 the county seat of Esmeralda County moved from Aurora to Hawthorne. A court house was needed, so a contract to build it for $29125 was awarded. On August 16, 1883 construction began. Corruption and collusion between the contractor George W. Babcock, and political officials are revealed by a Grand Jury. Despite the wrong doings, in February of 1884 the building was opened and continued as a county entity until May 1907, when the county seat moved to Goldfield. On February 11, 1911, Esmeralda County was split and Mineral County was created. Again, it became the center of county business until 1973, when a modern facility replaced it.
Dedicated May 4, 1996
Walker Lake Posse #6000
Outpost of Julia C. Bulette #1864
E Clampus Vitus
National Register #82003214
Mineral County Courthouse
551 C Street
Hawthorne
Built 1883
The Mineral County Courthouse originally served as Esmeralda County's second courthouse (1883-1907), and later saw service as the first Mineral County Courthouse (1911-1974).
It is the only structure in the State's history which served as a courthouse for two different Nevada counties, and is one of seven extant 19th-century courthouses in the State. Excluding a small number of residential structures which escaped the periodic fires besetting Hawthorne during its first one hundred years., the courthouse, from all indications, is the oldest substantial, nonframe structure in the Mineral County seat of government.
Less than two years after the infant community of Hawthorne was founded as a station on the newly-constructed Carson & Colorado Railroad, the citizens of the fledgling town had mounted a campaign to acquire county seat status. On March 1, 1883, the State Legislature approved "An Act to remove the county seat of Esmeralda County from the town of Aurora to the town of Hawthorne," and approved the sale of bonds to raise funds for the construction of a courthouse "in a sum not exceeding thirty thousand dollars." The effective date for the transfer of office was July 1.
Source: NRHP Nomination Form