Nevada Historical Marker 263
Oats Park School
151 East Park Street
Fallon
Built 1914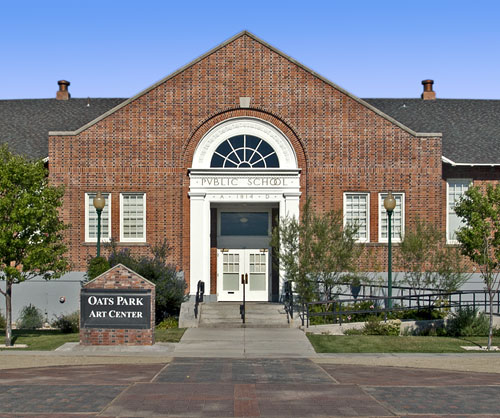 6 August 2008
(Click Photo to Zoom)
Oats Park School
The Oats Park School was designed in 1914 by Frederick J. DeLongchamps, Nevada's pre-eminent architect of the period. He was also responsible for the 1921 north and south wing additions. This building is one of his earliest, and perhaps his first, public school designs. The structure was placed on the State and National Registers of Historic Places in 1990 because of its importance in the history of local education and its architectural significance including the use of contrasting brick colors and attention to interior detail.
In 1995, the Churchill Arts Council began construction and renovation of the facility for its use as a multi-discipline cultural center. Drawing on the building's legacy of serving the community, the Churchill Arts Council reopened the building as the Oats Park Art Center in February, 2003. State Historic Marker No. 263
State Historic Preservation Office
Churchill Arts Council

Oats Park School is National Register Listing #90000715.