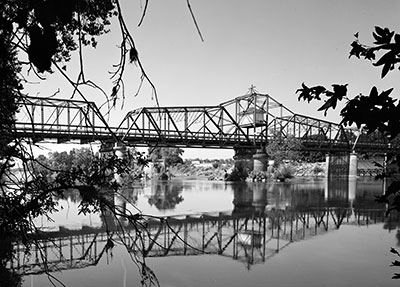 HABS/HAER Photo of Gianella Bridge
27 August 1985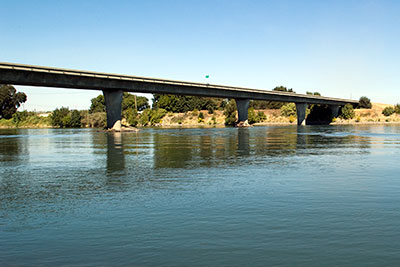 New State Route 32 Bridge Over the Sacramento River
25 September 2006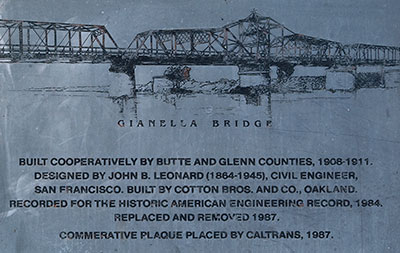 25 September 2006
(Click Photos to Zoom)
National Register #82004614
Gianella Bridge
State Highway 32 Spanning the Sacramento River Between Glenn and Butte Counties
East of Hamilton City
Built 1911
Demolished 1987
The Gianella bridge spanned the Sacramento River here, rather than somewhere else, because the sugar beets were on the left bank and the refinery was on the right bank.
At the beginning of the 20th Century, farmers and businessmen in Glenn and Butte Counties agreed that the Sacramento River should be bridged to facilitate commerce and agriculture, but they haggled for years about the site. Among the disputants were citizens of Chico and Hamilton City, farmers, refineries, railroads and even the United States War Department concerned about river navigation.
Swiss-born Vincenzo Gianella was a wealthy man who had amassed 6,500 acres of Butte County pasture and farmland including four miles of frontage on the Sacramento River which he determined to devote to sugar beets, a booming industry in California's Central Valley. The Alta California Sugar Beet Company refinery stood directly across the river in Hamilton City. Gianella lobbied hard for a bridge that would connect his farmland to the refinery. With the aid of the Northern Electric Railroad, he prevailed.
The bridge was never formally named the Gianella Bridge. In official documents, it was the bridge at the Gianella site.
Before its demolition in 1987, the Gianella Bridge was the oldest remaining highway swing bridge in California. It carried two lanes of traffic on two 133-foot fixed steel approach trusses and one 311-foot steel swing truss. The last time the swing truss was opened was in 1972.
For a detailed history of the Gianella Bridge, please see Historic American Buildings Survey/Historic American Engineering Record

Some historic sites on the Sacramento River from north to south: