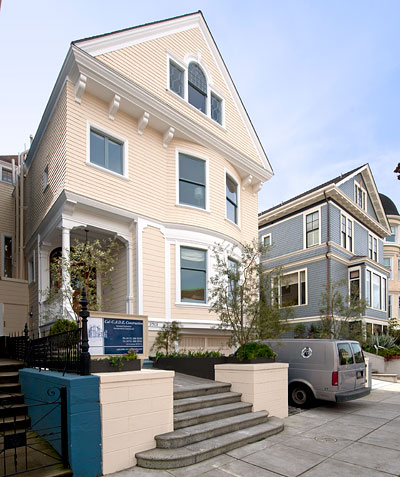 Frederick Hamilton House at 2513 Pacific Avenue
Charles Heise House at 2517 Pacific Avenue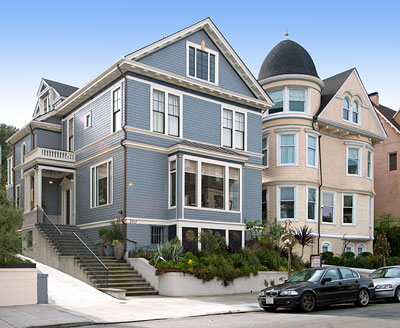 Charles Heise House at 2517 Pacific Avenue
J. C. Stubbs House at 2519 Pacific Avenue
The Heise House was built in 1884 and is the oldest surviving house in the block. The Stubbs House was built in 1892.
Source: Encyclopedia of San Francisco
Both Photos 20 February 2012
(Click Photo to Zoom)
George W. Percy (1847-1900)
Frederick F. Hamilton (1851-1899)
George W. Percy and Frederick F. Hamilton, both natives of Maine, operated the most successful architectural partnership in San Francisco during the Victorian era.
Both architects had experience of working with Maine granite and were fluent in the Richardsonian Romanesque style. They employed this style for Greystone Cellars in the Napa Valley and for the Sharon Building in Golden Gate Park.
From 1880 until 1899 when Hamilton died, Percy & Hamilton designed many houses and churches in Pacific Heights. Many of the houses were demolished for redevelopment.
After Hamilton's death, Percy formed a brief partnership with Willis Polk. The major achievement of their partnership was the Alvinza Hayward Building (San Francisco Landmark 161) in the financial district.
Year
Address
City
Sort Address
Sort Name
Alameda City Hall
1896
Santa Clara Avenue and Oak Street
Alameda
Santa Clara
Alameda City Hall
Commercial Building
1897
85 2nd Street at Mission
San Francisco
Street 02 0085
Commercial Building
Union Iron Works Office Building
1896
20th Street in Union Iron Works
San Francisco
Street 20
Union Iron Works Office Building
Trinity Presbyterian Church
1892
3261 23rd Street
San Francisco
Street 23 3261
Trinity Presbyterian Church
Residence
1889
2513 Broadway
San Francisco
Broadway 2513
Residence
Residence
1893
1902 Broderick
San Francisco
Broderick 1902
Residence
Residence
1889
2201 Broderick
San Francisco
Broderick 2201
Residence
Residence
1897
2705 Buchanan
San Francisco
Buchanan 2705
Residence
Seventh Day Adventist Church
1892
California and Broderick
San Francisco
California
Seventh Day Adventist Church
Residence
1894
2318 Fillmore
San Francisco
Fillmore 2318
Residence
First Unitarian Church
1887
1187 Franklin Street
San Francisco
Franklin 1187
First Unitarian Church
Sharon Building
1887
Golden Gate Park
San Francisco
Golden Gate Park
Sharon Building
Alvinza Hayward Building
1906
400 Montgomery
San Francisco
Montgomery 0400
Alvinza Hayward Building
Frederick Hamilton House
1890
2513 Pacific Avenue
San Francisco
Pacific 2513
Frederick Hamilton House
Charles Heise House
1884
2517 Pacific Avenue
San Francisco
Pacific 2517
Charles Heise House
J. C. Stubbs House
1892
2519 Pacific Avenue
San Francisco
Pacific 2519
J. C. Stubbs House
Slack Mansion
1894
2230 Sacramento
San Francisco
Sacramento 2230
Slack Mansion
Residence
1884
2547 Washington Street
San Francisco
Washington 2547
Residence
Residence
1885
1923 Webster
San Francisco
Webster 1923
Residence
Greystone Cellars
1886
2555 Main Street
St. Helena
Main 2555
Greystone Cellars