The Loire: September 29
Pavane pour une Infante Defunte
by Ravel
We awoke to find a thick blanket of fog over the entire area, as dense as any we serve up in San Francisco. Looking out the hotel door we couldn't even see Chambord. As we walked closer the building slowly began to take shape.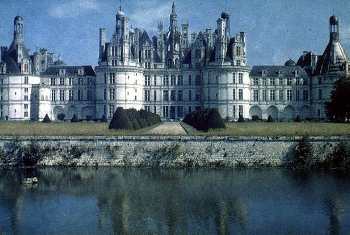 This was one of the scenes that impressed me the most on our vacation. (I found a photo in a travel magazine of Chambord enshrouded in that same fog, so it must not be too unusual.) Anyway, Al took our first photos of the trip. By the time he had finished the sun had burned off the fog and exposed a clear blue sky. The whole time we were alone, except for some workers going into chateau...not a single tourist; the only time on our vacation we could feel we had a place to ourselves.

We headed off without breakfast, drove past Blois and Amboise, and searched for a chateau. We found one with a vacancy but decided not to stay as it lacked the desired ambiance. The next couldn't take us for three nights but the owner made a phone call to a neighbor, the Chateau de Pintray. We checked in, left our suitcases and headed off to Montrichard, a small town on the River Cher. This is a neat little town with a ruined castle looming above a cluster of medieval houses. A long steep climb to the castle rewards one with great views of the area, but not much else, except for lots of hawks and falcons kept on tethers for tourists to look at. I'd prefer to see them free in the sky.

Our next stop was Chenonceau, one of the area's most famous chateaus. It is built partially over the River Cher and has wonderful gardens. it is what one imagines a chateau should look like.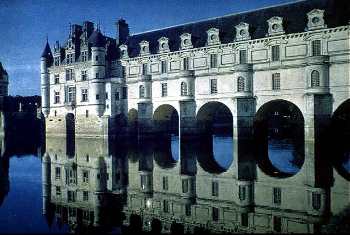 We drove back to Amboise, on the banks of the Loire, the nearest large town to our Chateau de Pintray. Had ice cream and coffee in a great little ice cream/coffee shop. Back to Pintray to unpack and rest before dinner. That morning, the people checking out of our room had raved about a nearby restaurant, so we decided to give it a try. Called Val de Loire, it is owned by a young couple who are trying to make it on their own. He had been an assistant chef who wanted to run his own kitchen. The food was magnificent, really more than we would normally eat; but with great will power, we forced ourselves right through dessert.