Henry & Eleanor & Richard & Jeanne & Cinq-Mars: September 30
La Battaglia
We drove west to Tours to find a Hertz office to correct a minor problem, and then crossed to the north side of the Loire and headed west to see what was there.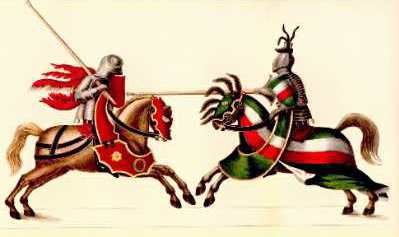 We came upon the town of Cinq-Mars-la-Pile. Seems a guy named Cinq-Mars had a castle there. At the age of 19 he was involved in some plot against King Louis XIII, was convicted of treason, and beheaded. Then, for reasons known only to himself and Freud, the king also lopped off the top of Cinq-Mars' castle towers. Today the topless towers provide a wonderful view to the south of the Loire and Cher valleys. It also has a dried moat which we walked through. And up in one of the towers there is graffiti carved into the stones, some going back to the mid 1800's.
We continued west through Langeais, and past the Chateau d'Usse. This is famous as the setting for the original Sleeping Beauty story by Perrault and looks just like a fairyland castle on the hillside above the Loire. We didn't have time to stop as we had other places we wanted to see.

On through Montsoreau and south to the Abby of Fontevraud (Fontevraud l'Abbaye). This is one of the most complete collections of monastic buildings anywhere. It is also the burial place for some of England's most famous royalty: Richard the Lion-Hearted, Eleanor of Aquitaine, Henry II, and Isabelle wife of King John of England. One doesn't expect to find Plantagenets buried in France but they spent most of their time in Anjou and loved this abbey, and so chose to remain there after death.

On to Chinon, an ancient fortress high on a hill overlooking the Vienne River and the town of the same name. The grim chateau is the sight of the first meeting between Joan of Arc and the Dauphin, when she told him she had been divinely chosen to help him to be crowned at Reims.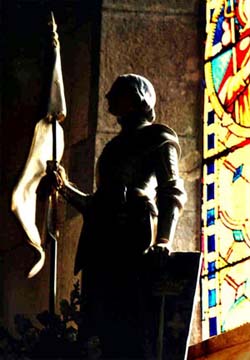 Although it was overcast during our visit, we could appreciate the spectacular views toward the river and town. Much of the fortress is in ruins but many rooms have been restored. In one tower, where some of the Knights Templar were imprisoned in the 14th century, you can still see the graffiti carved by the prisoners. Amazing and touching.

We had a quick meal in Chinon and headed back as it was getting dark. Al decided he did not like driving at night in a strange country on unfamiliar roads with a navigator who could neither read nor pronounce French roadsigns. High tension! We drove east on the north bank of the Loire toward the bridge at Amboise so we could see the Amboise chateau lit up at night. Beautiful!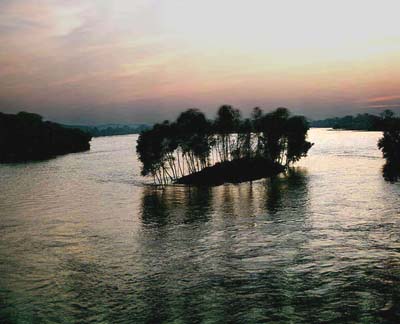 Then across the bridge and back to the comfort of Pintray.