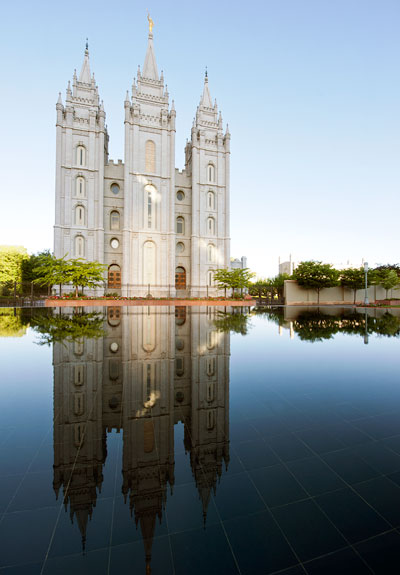 Salt Lake Temple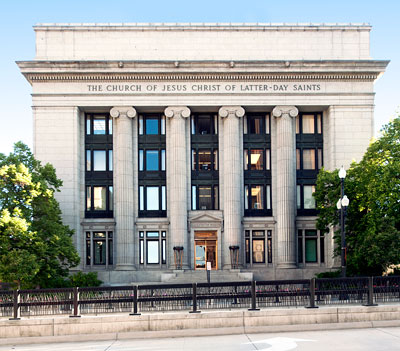 LDS Administration Building
National Register #66000738
Temple Square
Salt Lake City
Temple Square is a ten acre block in Salt Lake City, the point from which all city streets are numbered.
In 1847, Brigham Young punched his cane into the ground saying, "Here will be the Temple of our God." Forty acres, later reduced to ten, were staked out, and from the southeast corner of the square Orson Pratt surveyed and laid out the streets of the city.
In 1853 ground-breaking ceremonies launched construction of Brigham Young's "Temple of our God." The general plan was Young's, conceived before the exodus from Missouri, and the details were worked out by Church architect Truman 0. Angell.
By 1855 a fifteen-foot high adobe wall with sandstone base surrounded the square.
The walls of the Temple rose slowly as great granite blocks, quarried in Little Cottonwood Canyon, were hauled first by ox-team, later by railroad, twenty miles to the building site. Thousand gathered on April 6, 1892, to watch the capstone placed on the towering edifice almost forty years after construction had begun.. Some points of interest associated with Temple Square are:
Salt Lake Temple: Constructed 1853-1893. Only Mormons are admitted to the Temple.

Tabernacle: Completed in 1867. The acoustics are famous. A pin dropped near the pulpit can be heard distinctly in the opposite end of the auditorium, some two hundred feet away. The organ, first used in 1867 with seven hundred pipes, has been powered by electricity since 1915 and now has nearly eleven thousand pipes.

Assembly Hall: Constructed 1877-1882 to accomadate overflow from conferences in the Tabernacle.

Deuel Pioneer Log Cabin: Built in 1847 at the mouth of Emigration Canyon above Salt Lake City. Moved downtown in 1849 and given to the LDS Church in 1921.

Museum: Established in 1869 by John W. Young, son of Brigham Young. Present building built in 1904 and second story added in 1910.

Visitor's Center: Constructed 1966. Contains exhibits promoting the Mormon lifeatyle including a three dimensional diorama of Joseph Smith's vision brought to life in Tony Kushner's play, Angels in America: A Gay Fantasia on National Themes.

Joseph Smith Memorial Building: National Register Listing #78002673. Built 1909-1911 as the Hotel Utah. In 1993, the LDS Church closed the hotel and renamed the building to honor the Prophet.

Church Office Building: The tallest building in Salt Lake City.

Church Administration Building: Built in 1912.

Lion House: National Register Listing #66000739.

Beehive House: National Register Listing #70000626.

Brigham Young Historic Park

Sea Gull Monument: Erected 1913 to commemorate the rescue of the Mormon's 1848 grain crop from a plague of crickets by sea gulls from the west.