California Landmark 32
Reading's Bar
Clear Creek Road Near Clear Creek Bridge
Redding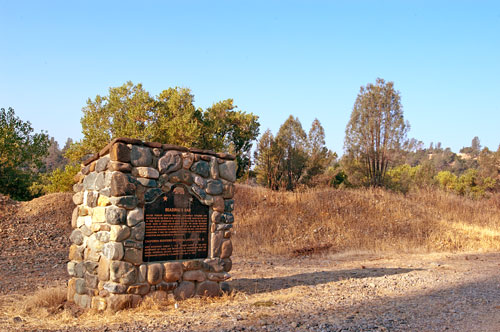 25 September 2006
(Click Photos to Zoom)
Reading's Bar
Major Pierson Barton Reading, California explorer and participant in the Bear Flag Revolt, discovered gold on this bar in 1848. Soon afterwards he made a similar find on the Trinity River. News of these discoveries opened the entire northern region of California to the Gold Rush of '49. By 1851 the town of Clear Creek Diggings had been settled near the bar. Later renamed Horsetown, it was the commercial center for this mining area. Horsetown was destroyed by fire in 1868.
California Registered Historic Landmark No. 32
First registered August 1, 1932. Plaque placed by the State Department of Parks and Recreation in cooperation with the Shasta Historical Society, Darrell Moss Historical Fund and Trinitarianus Chapter 62, E Clampus Vitus, May 16, 1998.

A noticed posted at the site reads:
Reading Bar Restoration
This restoration is part of a 1.8 mile long project to rehabilitate the Lower Clear Creek ecosystem from the effects of historical gold and aggregate mining. Restoration has included the reshaping of mine tailings, creation of floodplains and replanting of riparian vegetation. This project on public lands resulted from a partnership among multiple state and federal cooperating agencies.
Restoration Efforts
Over 150,000 yards of fill material have been used in the restoration of Clear Creek
Over 6,000 native plants have been planted
Gravel for fish spawning has been added
Reading Bar History
Major Pierson Barton Reading discovers gold on this bar in 1848
Location of Horsetown, established 1849
Large scale gold dredging during the early 1900's
Aggregate extraction from 1950-1978
Restoration efforts start in the late 1990's

Historic sites associated with Major Pierson Barton Reading: