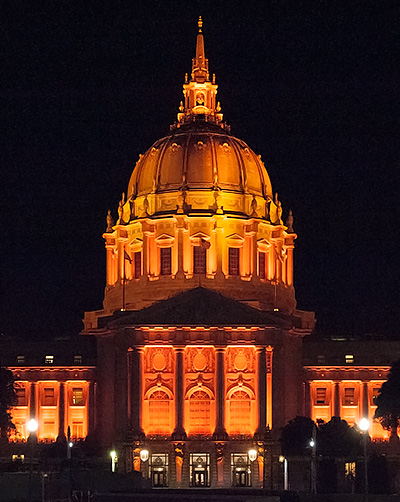 27 October 2014
City Hall Celebrates the San Francisco Giants
World Series Champions in 2010 and 2012 and 2014
Civic Center
Bounded by Van Ness Avenue, Market Street, Golden Gate Avenue, 7th Street
Designated December 1994
San Francisco Civic Center was inspired by the City Beautiful movement which originated with the World Columbian Exposition in Chicago in 1893. The exposition's monumental, neoclassical White City was the antithesis of most American cities which had grown chaotically in the preceding era of rapid immigration and industrialization.
Adapted from San Francisco Planning Code: Article 10, Appendix J

Civic Center is also
National Register Listing #78000757
and the War Memorial Complex is
Califonia Historical Landmark 964
.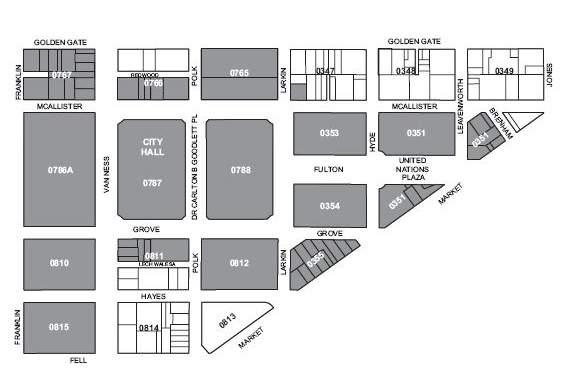 Map courtesy of San Francisco Planning Department
| Name | Year | Address | Remarks | Sort Address | Sort Name |
| --- | --- | --- | --- | --- | --- |
| Barbara Apartments | | 580 McAllister Street | | McAllister 0580 | Barbara Apartments |
| City Hall | 1915 | 400 Van Ness Avenue | San Francisco Landmark 21 | Van Ness 0400 | City Hall |
| Commercial Building | | 1212 Market Street | | Market 1212 | Commercial Building |
| Commercial Building | | 1240-1242 Market Street | | Market 1240 | Commercial Building |
| Commercial Building | | 1278-1298 Market Street | | Market 1278 | Commercial Building |
| Commercial Building | | 1 United Nations Plaza | | United Nations | Commercial Building |
| Corinthian Court Apartments | | 500-542 Van Ness Avenue | | Van Ness 0500 | Corinthian Court Apartments |
| Department of Public Health | 1932 | 101 Grove Street | | Grove 0101 | Department of Public Health |
| Bill Graham Civic Auditorium | 1914 | 99 Grove Street | | Grove 0099 | Bill Graham Civic Auditorium |
| Federal Building | 1936 | 50 Fulton Street | | Fulton 0050 | Federal Building |
| High School of Commerce | 1910 | 135 Van Ness Avenue | San Francisco Landmark 140 | Van Ness 0135 | High School of Commerce |
| Hotel Avalaon | | 1272-1276 Market Street | | Market 1272 | Hotel Avalaon |
| Methodist Book Concern | | 83 McAllister Street | | McAllister 0083 | Methodist Book Concern |
| Newton Tharp Public High School | 1910 | 170 Fell Street | San Francisco Landmark 140 | Fell 0170 | Newton Tharp Public High School |
| California State Building | 1921 | 50 McAllister Street | | McAllister 0050 | California State Building |
| Orpheun Theater | 1926 | 1182 Marketv Street | San Francisco Landmark 94 | Market 1182 | Orpheun Theater |
| Asian Art Museum (Old Main Library) | 1916 | 200 Larkin Street | | Larkin 0200 | Asian Art Museum (Old Main Library) |
| War Memorial Opera House | 1932 | 301 Van Ness Avenue | Califonia Historical Landmark 964 | Van Ness 0301 | War Memorial Opera House |
| War Memorial Veteran's Building | 1933 | 401 Van Ness Avenue | Califonia Historical Landmark 964 | Van Ness 0401 | War Memorial Veteran's Building |