California Historical Landmark 964
Birthplace of the United Nations
War Memorial Complex
Civic Center
400 Block of Van Ness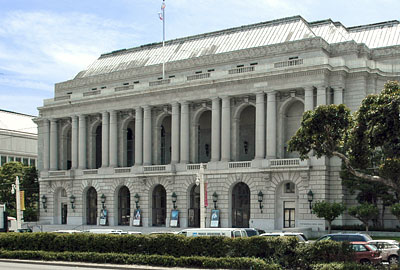 War Memorial Opera House
23 June 2003
(Click Photo to Zoom)
Birthplace of the United Nations
War Memorial Complex
President Franklin D. Roosevelt designated the War Memorial Complex in San Francisco to be the place that the United Nations Conference for International Organization would convene on April 25, 1945. Fifty nations participated in the drafting of the United Nations Charter which was unanimously adopted June 25 and signed by representatives of the 50 nations in the War Memorial Veterans Building on June 26. The site of the signing of the Charter is one of the most significant historical landmarks sites in the world for 20th century events.
Citation from California Office of Historic Preservation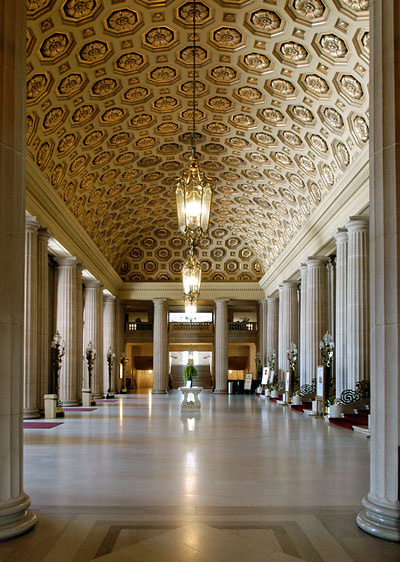 War Memorial Opera House Lobby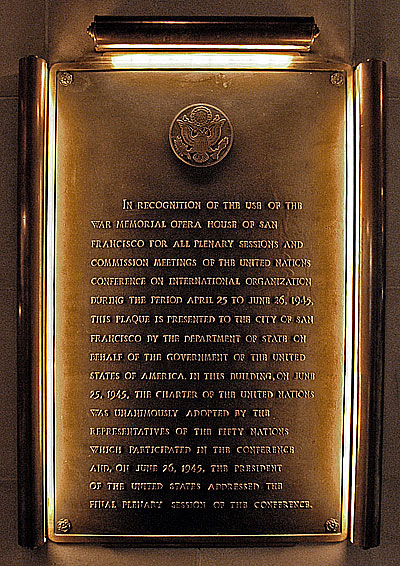 Plaque in Lobby
Both Photos 23 June 2004
(Click Photos to Zoom)
In recognition of the use of the War Memorial Opera House of San Francisco for all plenary sessions and commission meetings of the United Nations Conference on International Organization during the period April 25 to June 26, 1945, this plaque is presented to the City of San Francisco by the Department of State on behalf of the Government of the United States of America in this building, on June 25, 1945. The Charter of the United Nations was unanimously adopted by the representatives of the fifty nations which participated in the conference and, on June 26, 1945, the President of the United States addressed the final session of the conference.