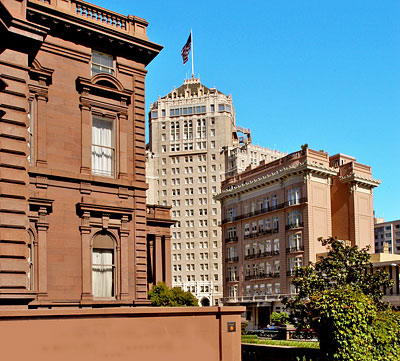 Pacific Union Club
, Mark Hopkins Hotel and 1001 California
26 May 2003
(Click Photo to Zoom)
San Francisco Landmark #184
Mark Hopkins Hotel
850 Mason/1 Nob Hill
Built 1926
The Mark Hopkins Hotel, designed by the firm of Weeks & Day in the Gothic Revival style popular in the 1920s, occupies the site of the Mark Hopkins Mansion which was destroyed by the 1906 Earthquake and Fire.
In 1936, Timothy Pflueger designed the Famous Top of the Mark lounge.
During World War II, servicemen would buy and leave a bottle in the care of the bartender so that the next soldier from their squadron could enjoy a free drink, the only requirement being that whoever had the last sip would buy the next bottle.
The soldiers gathered before shipping out for one last toast to the Golden Gate Bridge, believing that the bridge was good luck and would bring them home. As they embarked from Fort Mason, wives and sweethearts would draw together in the lounge's northwest corner, where they would tearfully gaze out the windows.
This corner became known as the "Weepers' Corner."
Source: Mark Hopkins Hotel promotional literature