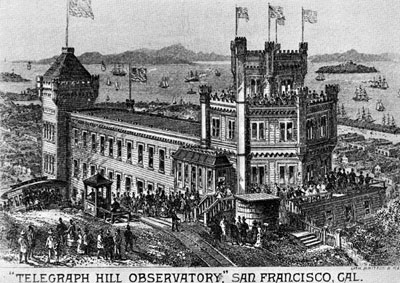 Telegraph Hill Observatory
AKA Layman's Wooden Castle
AKA Layman's Folly
"A party palace and observation post atop Telegraph Hill"
Courtesy Greg Gaar Collection
(Click Image to Zoom)
The northern half of Coit Tower's parking lot was once the site of Layman's Castle. It served as a restaurant and observatory.
The hilltop attraction never proved very popular, largely due to the hill's inaccessibility.
Several things were tried to drum up business. For about a year in the mid-1880's there were weekly jousting contests, in which two armor-clad combatants on horseback charged at each other with swords flying. And a cable-car line was run up Greenwich Street to the summit in 1884, but the line never turned a profit and was discontinued after only a few years.
By the 1890's the castle was a scene of neglect. In 1903 a fire damaged the structure. The remainder, beyond repair, was carted off for firewood.
From Historic Walks in San Francisco: 18 Trails Through the City's Past by Rand Richards (2008)
San Francisco Landmark #121
Julius' Castle
1541 Montgomery Street Between Chestnut and Lombard
Built 1923 and 1928
Julius' Castle is a well-known visual landmark perched on the northeast cliff of Telegraph Hill just below Coit Tower.
It was designed by Italian architect Luigi Mastropasqua for restaurateur Julius Roz who immigrated from Italy to San Francisco in 1898. The design, which combined elements of the Gothic Revival and the Arts and Crafts architectural styles, paid tribute to Layman's Wooden Castle which had ruled over Telegraph Hill from 1882 to 1903. Roz added the hexagonal tower to Julius's Castle in 1928.
Julius Roz operated the restaurant until his death in 1943. Other restaurateurs continued to operate Julius' Castle, notably Jeffrey Pollack who purchased the building in 1960 and operated the restaurant for 26 years until he sold it in 2006.
The new owner renovated the restaurant and reopened it in May 2007 but closed it eight months later.
Julius' Castle was always a favorite with celebrities in entertainment, politics and business. The online edition of Preservation Magazine dated June 8, 2009 noted:
Throughout Pollack's tenure Julius' Castle served as a popular celebrity hangout, with visits from Bay Area politicians ("Table 34 was the mayor's table," says Pollack), 1980s musicians like Huey Lewis and Journey, and Hollywood luminaries: Robert Redford, Sean Connery, and Ginger Rogers. Once, says Pollack, the entire cast of The Empire Strikes Back ("Everyone from 5'1" Carry Fisher to the 7'3" guy who played Chewbacca," Pollack says) came in for dinner. Later, the castle hosted an even stranger looking group: two dozen 60- to 70-year-olds, many with leathery skin and damaged limbs. After shaking several hands with missing fingers, Pollack learned they were mountain climbers. Their guest of honor? Famed Everest conqueror Sir Edmund Hillary.
As of today, 7 May 2012, Julius' Castle remains in limbo.
Adapted from San Francisco Planning Commission Resolution 8592 dated 15 May 1980 and the online edition of Preservation Magazine dated 8 June 2009.