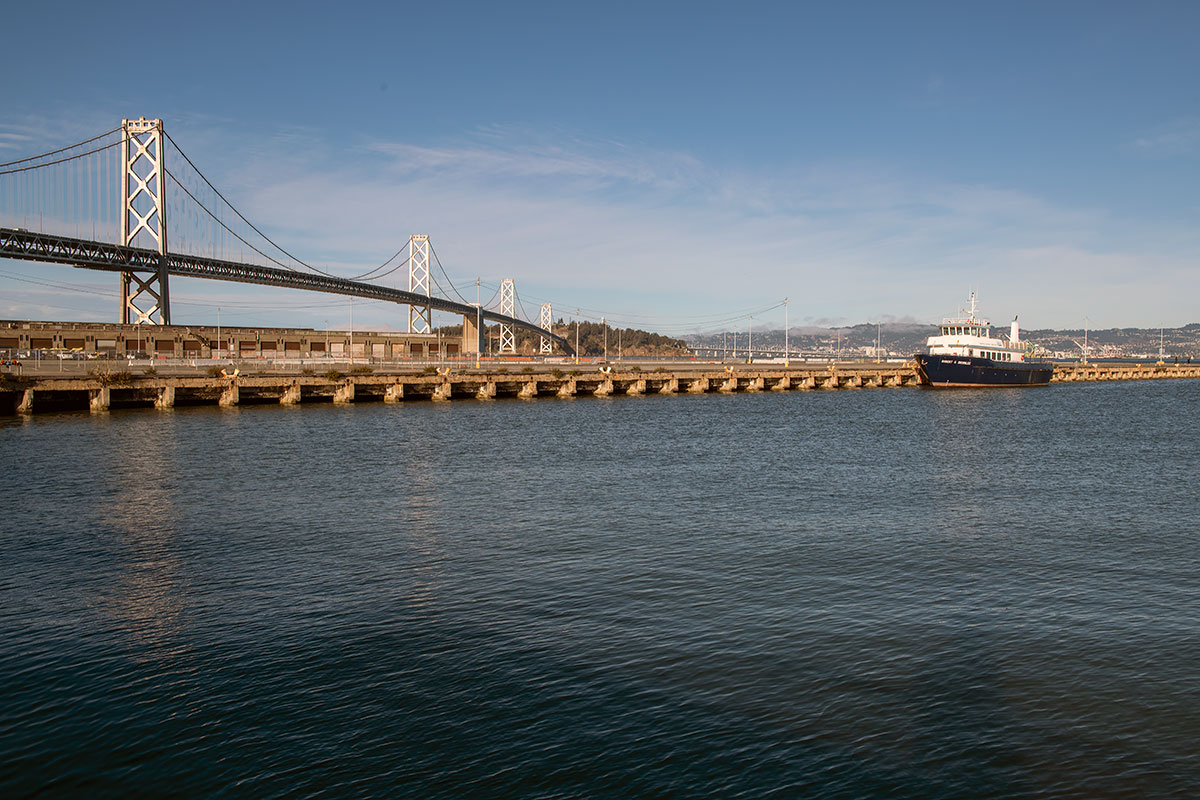 5 November 2023
From top to bottom, the photo shows the Bay Bridge, Pier 28 and Piers 30-32 where the Robert G. Brownlee is docked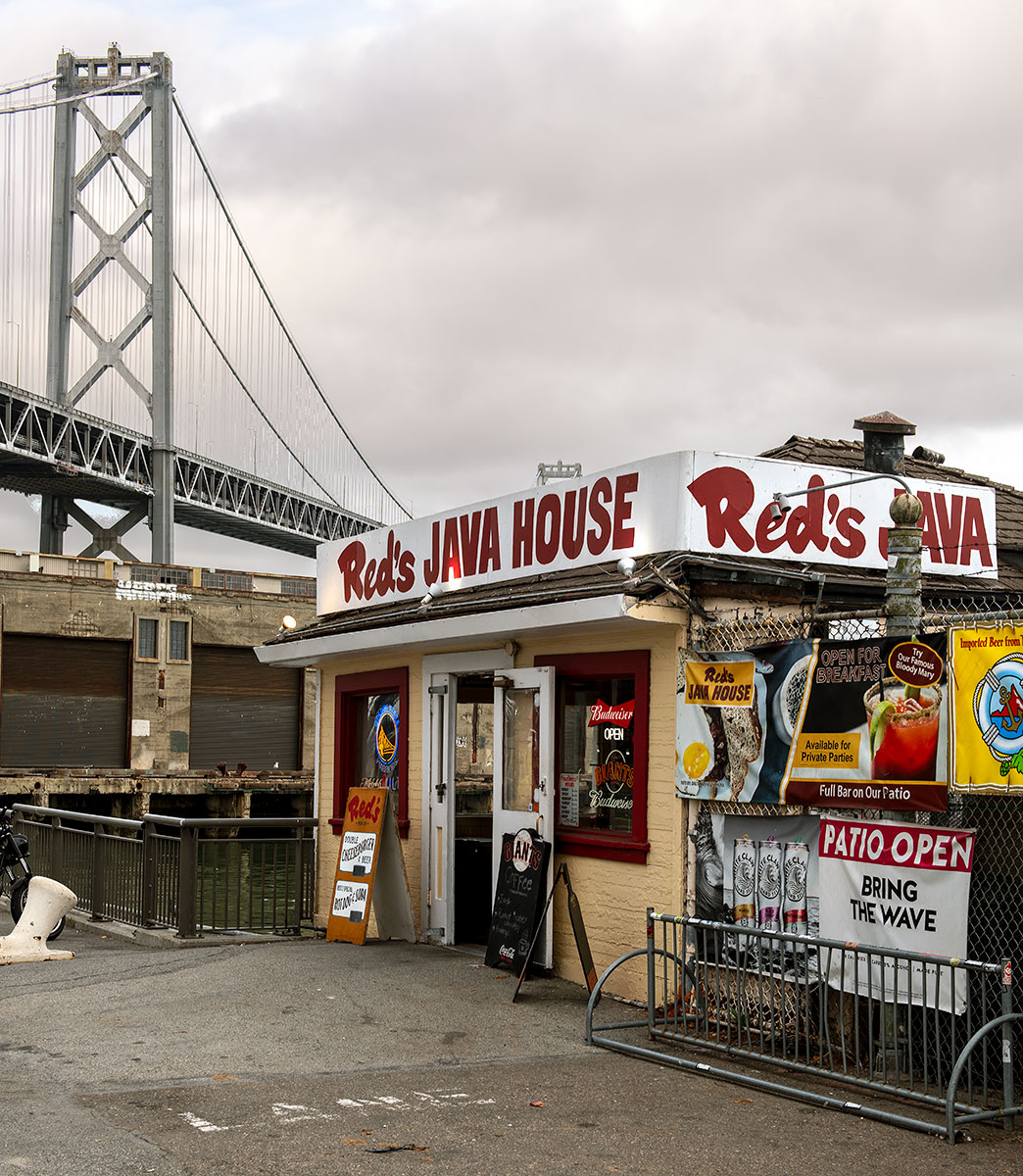 5 November 2023
The use of this building as a waterfront restaurant dates back to a time when restaurant life flourished on the waterfront. After the 1934 strike resulted in the establishment of a hiring hall, waterfront workers gathered in restaurants like this in the morning waiting for work.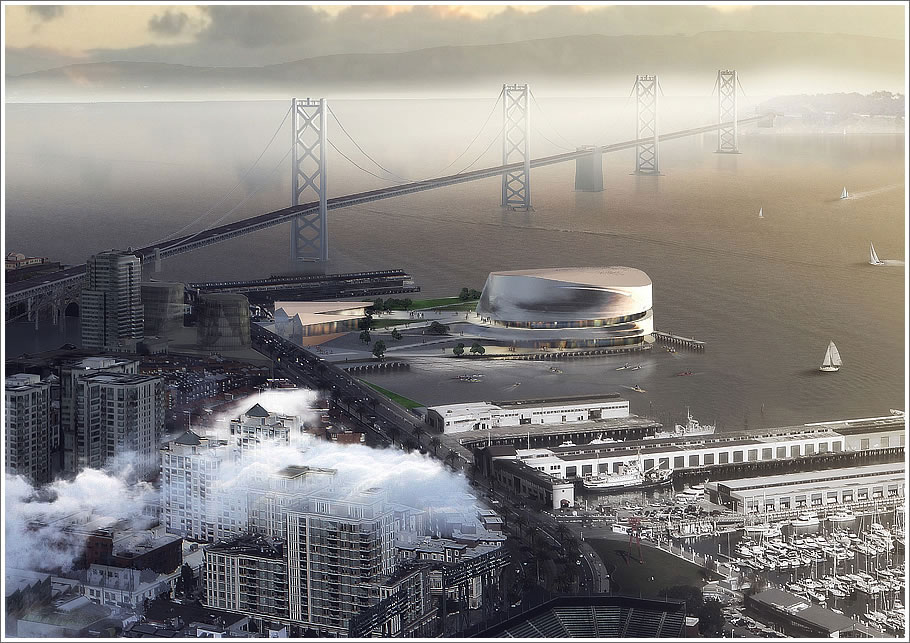 In October 2012, the Norwegian architectural firm, Snøhetta, released this preliminary design for the Golden State Warriors arena. The Warriors had budgeted $100 million to fix the piers and another $500 million to build the arena.
Piers 30 and 32
The Embarcadero Between Harrison and Bryant
Built 1912-1914
Section lla of the bulkhead wharf, which stretches 281 feet along The Embarcadero just south of the Bay Bridge, was built in 1912-1914 together with Piers 30-32. The bulkhead is of reinforced concrete construction with piles and decks of reinforced concrete and paved surfaces of asphalt. It never had a bulkhead building or other structure on it.
Piers 30-32 contribute to the Port of San Francisco Embarcadero Historic District which was listed on the National Register of Historic Places in 2006.

The only good thing that can be said about these piers is that Red's Java House is here.
These derelict piers, which are highly visible from the westbound lanes of the Bay Bridge, are a major eyesore with little chance of redemption. Since 1993, six different developers have proposed projects and all have failed. The Golden State Warriors tried to build an 18,000-seat arena on these piers but scrapped their plans in 2014.
In the 24 April 2014 edition of SF Gate, John Coté and Heather Knight quoted Jasper Rubin, chairman of the urban studies and planning program at San Francisco State University: "I don't think there is much hope for them anymore. So many plans have come and gone for that site. It's like the Bermuda triangle for development projects."